Multi-conductor flexible control cable from AutomationDirect is now available in 20 AWG unshielded models with 3 to 25 conductors including ground. Existing gauge sizes are available from 18 AWG to 10 AWG with 3 to 41 unshielded or shielded conductors including ground wire.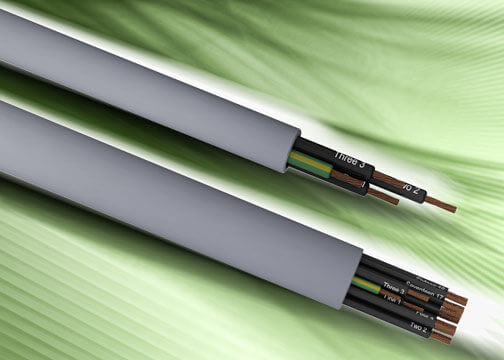 The cable's outer jacket is a flexible, premium grade Thermoplastic Elastomer (TPE) that is resistant to sunlight, oil, and moisture penetration, making these cables suitable for wet and dry locations as well as outdoors. Individual conductors are bare copper and stranded for flexibility, with black PVC/Nylon insulation and marked with numbers for easy identification.
Tray Cable Exposed Run (UL Type TC-ER) and Power Limited Tray Cable (UL Type PLTC-ER) ratings allow the control cable to be installed between a cable tray and equipment or devices without requiring metal conduit and/or armor, resulting in installation and maintenance savings.
These cables are ideal for both stationary and flexible applications with limited mechanical stress and free movement without any tensile stress, loads or forced movements (not intended for continuous flexing applications).
Multi-conductor flexible control cable is available cut-to-length in 1-foot increments starting at $0.44 per foot (20-foot minimum).
Learn more by visiting: www.automationdirect.com/control-cable
About AutomationDirect:
In business since 1994, AutomationDirect is a distributor offering thousands of industrial automation products for electrical control systems, including PLCs, operator interfaces, AC drives, motors, stepper systems, sensors, motor controls, enclosures and more. Their prices are typically well below the list price of more traditional automation companies because of their business model and focus on efficiency and the majority of their products are stocked for fast shipping. Plus, get free two-day delivery on orders over $49; some limitations apply. For more information, contact them at 800-633-0405 or visit www.automationdirect.com.
Editorial Contact: Tina Gable
Phone: 678-455-1845
Email: tgable@automationdirect.com