Integrated Stepper Motors and Drives from AutomationDirect
AutomationDirect has added Integrated stepper motors and drives to its SureStep line of stepper motion control products. Integrated stepper motor/drives save panel space, require less wiring and are less expensive.
The new SureStep integrated drive/motor units provide accurate micro-stepping position and speed control for smooth motion and step response and require only 2 components, power supply and integrated stepper motor/drive. Standard motor/drives and Advanced motor/drives are available. Existing SureStep systems require 4 components including power supply, stepper drive, motor extension cable, and motor.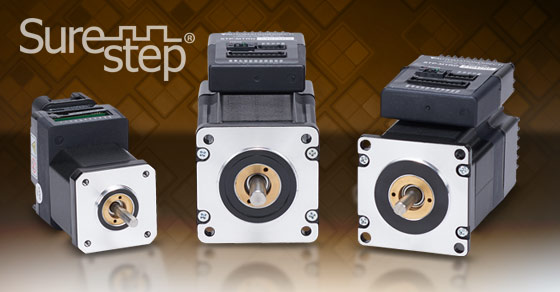 SureStep advanced integrated motor/drives have available torque from 54 to 340 oz-in and software-selectable resolutions ranging from 200 steps per revolution. The advanced drives can operate with traditional high-speed inputs, but can also be commanded via 0–5V analog input. An internal indexer can accomplish point-to-point moves controlled via ASCII communication.
Free SureMotion Pro drive configuration software is available for Advanced integrated motor/drives (not required for Standard drives) to easily configure and setup the drive, including drive, motion control mode, I/O, and motor. A Status Monitor screen aids in troubleshooting alarms and faults.
SureStep integrated motor/drives start at $97.00.
Learn more by visiting: www.automationdirect.com/integrated-motor-drives
To read more press releases from AutomationDirect, click here.
About AutomationDirect:
In business since 1994, AutomationDirect is a distributor offering thousands of industrial automation products for electrical control systems, including PLCs, operator interfaces, AC drives, motors, stepper systems, sensors, motor controls, enclosures and more. Their prices are typically well below the list price of more traditional automation companies because of their business model and focus on efficiency and the majority of their products are stocked for same-day shipping. Plus, get free two-day delivery on orders over $49; some limitations apply. For more information, contact them at 800-633-0405 or visit www.automationdirect.com.
Editorial Contact:              Tina Gable
Phone:                                678-455-1845
Email:                                tgable@automationdirect.com