AutomationDirect has added enclosed versions and non-enclosed DIN rail and panel/door mount versions of Merz disconnect / motor control switches.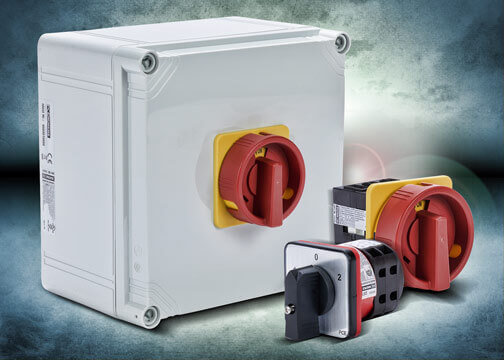 Non-enclosed UL 508 / UL 60947 600VAC manual motor controller switches (from $15.25) are designed for snap-on DIN rail mounting, base mounting or front mounting in a door. The terminal screws are all accessible from one side. ML1 compact switches are available for applications from 16A to 40A. For more demanding applications loads, the ML2 to ML3 series accommodates loads from 63A up to 125A. The new series includes a complete line of accessories such as: operating handles, shafts, auxiliary contacts, terminal shrouds and more.
The Merz UL 508 disconnect switch with enclosure (starting at $50.00) is a non-fusible, UL 508 / UL 60947 manual motor controller 600VAC "suitable as motor" disconnect switch rated at 25-125A (3-pole) and 40-63A (3-pole + Neutral). The gray polycarbonate plastic enclosure with red handle is NEMA/UL Type 1, 3R, 4, 4X rated.
Also available from AutomationDirect are Merz rotary cam switches. Priced from $21.00, these motor transfer (changeover) cam switches allow smooth transfer of one motor operation to another, while motor reversing cam switches allow smooth motor direction change. Merz rotary cam switches, in ratings up to 80A, are available with up to 3 poles, with a 5kA SCCR rating.

About AutomationDirect:
In business since 1994, AutomationDirect is a distributor offering thousands of industrial automation products for electrical control systems, including PLCs, operator interfaces, AC drives, motors, stepper systems, sensors, motor controls, enclosures and more. Their prices are typically well below the list price of more traditional automation companies because of their business model and focus on efficiency, and the majority of their products are stocked for fast shipping. Plus, get free two-day delivery on orders over $49; some limitations apply. For more information, contact them at 800-633-0405 or visit www.automationdirect.com.
Editorial Contact: Tina Gable
Phone: 678-455-1845
Email: tgable@automationdirect.com