AutomationDirect adds CLICK PLC input simulator and high-current relay output modules
Higher amperage relay output modules and an 8-point input simulator module are now available from AutomationDirect for the CLICK® series stackable micro brick PLCs.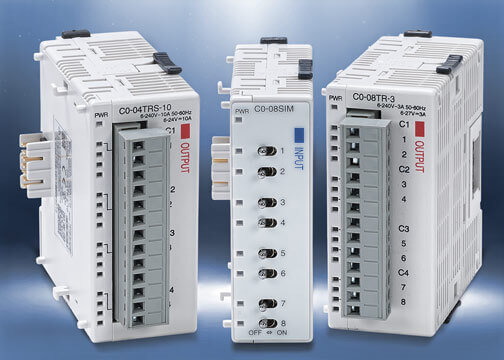 The CLICK C0-04TRS-10 ($54.00) is a 4-point, 10A per point, isolated relay output module with four Form A (SPST) relays and 4 isolated commons. Operating voltage range is 6-24 VDC / 6-240 VAC. The C0-08TR-3 ($49.00) is an 8-point, 3A per point, relay output module with eight Form A (SPST) relays and 4 isolated commons. Operating voltage range is 6-27 VDC / 6-240 VAC.
Priced at $40.00, the C0-08SIM input simulator module provides 8 toggle switches to simulate input devices, 8 logic side green status LED indicators and an LED power indicator.
AutomationDirect CLICK PLC units, starting at $69.00, are low-cost, brick/stackable PLCs with the processing, memory, communication and I/O interface needed in an automated control system.
Learn more by visiting: www.automationdirect.com/click-plc
About AutomationDirect:
In business since 1994, AutomationDirect is a distributor offering thousands of industrial automation products for electrical control systems, including PLCs, operator interfaces, AC drives, motors, stepper systems, sensors, motor controls, enclosures and more. Their prices are typically well below the list price of more traditional automation companies because of their business model and focus on efficiency and the majority of their products are stocked for fast shipping. Plus, get free two-day delivery on orders over $49; some limitations apply. For more information, contact them at 800-633-0405 or visit www.automationdirect.com.
Editorial Contact: Tina Gable
Phone: 678-455-1845
Email: tgable@automationdirect.com