Newsletter: Volume 16 – Issue 5
In this issue of AutomationDirect.com's newsletter you will find the latest product news on our new EA3-series C-more Micro touchscreen panels, our new Dold trapped keys safety systems, and our new AEGIS powerline filters. Also check out some of our newest videos added to YouTube. You will also find and article on one of our suppliers and an application story featuring our Do-more PLC.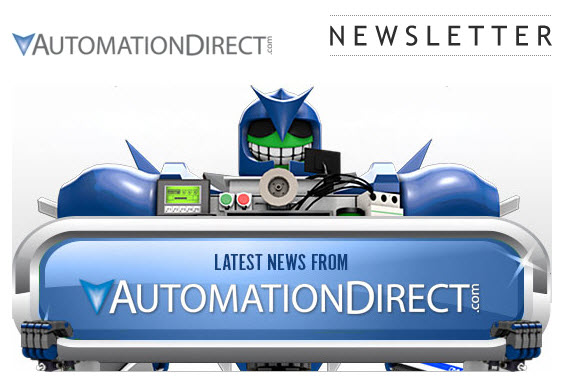 New EA3-series C-More Micro

AutomationDirect's new EA3 series operator touch panels are available in 8 and 10-inch versions. The EA3 series 8- and 10-inch micro-graphic touch panels are equipped with TFT LCD 800 x 600 pixel displays and a palette of 32K colors for customizing objects, screen backgrounds and displaying bitmap graphics. Learn More Now>>

AutomationDirect now offers AEGIS powerline filters/surge protectors to protect single-phase electrical and electronic equipment from surges and line noise that can cause misoperation and damage. With multiple levels of surge protection, AEGIS series units guard against surges and clean up line noise. Learn More Now>>
Students Help Manufacturing Center See and Do-More

Mechatronics students at Catawba Valley Community College (CVCC) in Hickory, North Carolina helped their college's Manufacturing Solutions Center monitor the status of a large group of washing machines and dryers and display that information for the technicians who use them. Learn More Now>>


Check out our complete list of application stories here.

Be sure to send us your application stories. If we use your story in our e-newsletter, we will apply a $100 credit to your AutomationDirect account. Application stories we use in print magazines earn a $750 credit. So, don't forget to send us information about your applications.
Controlled Access with New Dold Trapped Keys

AutomationDirect has added Dold trapped key systems to its line of safety products. A trapped key system uses a series of mechanical locks and keys to control the access of gates or doors to running equipment or machines, ensuring safe access to those machines. Learn More Now>>
 
We've Added More Videos to Our YouTube Channel

In celebration of National Safety Month we thought we would highlight some of our most recent YouTube additions. First is a quick summary of our safety components and protective wear. Next is an overview and "How To" video on our new Dold trapped key systems. As a bonus we added a new tutorial video explaining motion control for a feeder station. View Our Current Videos>>
You know they must be pretty cool songs when chart-topping music and songs from movies are pulled into the realm of parodies. One of the latest is the hit song, "Do You Want to Build a Snowman?" from the movie, "Frozen". After you see this, you'll never hear the song the same way again. Watch the Video>>
AutomationDirect.com
3505 Hutchinson Road
Cumming, GA. 30040