Newsletter: Volume 16 – Issue 6
In this issue of AutomationDirect.com's newsletter you will learn the latest about our new 2014 catalog , our right-angle precision gearboxes for servomotors, and our SureGear™ Online Selector tool. Also check out a cool application story from Control Engineering. Plus learn how you can use PayPal on our web store and download our latest whitepaper.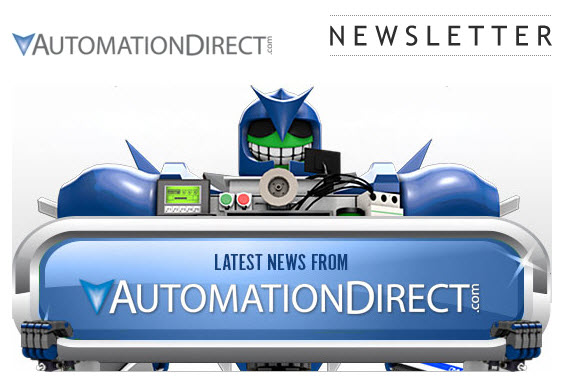 Our 2014 Catalog is Here!

AutomationDirect's newest catalog offers thousands of industrial automation products for a wide range of applications. The latest three-volume edition features product descriptions, technical data, photos and prices for PLCs, touch screen HMI, text panels, AC and DC motors, motion controllers, power products, sensors, encoders, pushbuttons, switches, drives, and more.  Click Here to Get Your Copy>>
AutomationDirect Adds Right- Angle Servo Gear Reducders


SureGear® PGB series of right-angle precision gearboxes for servomotors. PGB series right-angle planetary gear reducers provide an excellent solution when space and clearance requirements are limited. Four gear ratios are available (5:1, 10:1, 15:1, 25:1) and mounting hardware is included for easy mating to SureServo® motors. Pricing starts at $674. Learn More Now>>
                                                       
Have You Tried Our Online SureGear Selector Tool ?

The Automation Direct SureGear™ Online Selector allows designers to enter their torque and speed requirements to filter a list of available motor/gearbox systems.  Torque data can be entered in metric or imperial values or the designers can select a particular servo motor size.  Speed data can be entered as discrete values, or a gear ratio can be chosen.  Finally the designer can choose a preferred physical orientation: Inline, Right-Angle or Both.  The resulting list of available systems includes pricing information, which can be critical to the selection process.  After choosing a motor/gear combination, the designer moves to a page with the full specifications about that particular servo system, the gearbox itself, and the specs for the combination – complete with "Add to cart" functionality to complete the purchase.  SureGear Selector Tool>>

Even though the selector can make the specifying process easier the customer should always verify that the system will meet his/her needs and is applied correctly.
Precise Motion Control Gives Famous Vessel New Life

According to the CIA's Web site, in 1968 a Soviet Golf II-class submarine armed with nuclear ballistic missiles sailed from a naval base on Russia's Kamchatka Peninsula headed to its peacetime patrol station northeast of Hawaii. The sub and its crew were lost before reaching its destination, and after the Soviets abandoned extensive searching, it was located by the United States about 1,500 miles northwest of Hawaii. But, how could the vessel be recovered without the knowledge of the Soviets or other countries? Howard Hughes built and owned a mining vessel with the ability to complete the recovery in total secrecy. About halfway through the recovery mission, the media began receiving rumors of the mission. The mission was cancelled in 1975.
Fast forward to 2012; Bay Ship & Yacht Company was named winning bidder for the purchase of the Hughes Mining Barge (HMB-1) floating covered dry dock. In this Control Engineering article, read how they use products from AutomationDirect to control ballast flooding and pumping and now use it as a civilian floating dry dock. Read the Entire Article>>
Check out our complete list of application stories here.
Be sure to send us your application stories. If we use your story in our e-newsletter, we will apply a $100 credit to your AutomationDirect account. Application stories we use in print magazines earn a $750 credit. So, don't forget to send us information about your applications.
ProSense Line Now Includes Float Level Switches 
ProSense® float switches are available in several different material constructions for compatibility with many types of liquids, and offer wide temperature and system pressure ranges. The switches have both AC and DC voltage ratings and are configured for normally closed operation; most models can be easily converted to normally open operation in the field. ProSense float level switches start at $9.50 and have a one-year warranty. Float level switch kits starting at $159 and float level tilt switches ($29) are also available.  Learn More Now>>
We've Added PayPal as a Payment option.

PayPal is now accepted at AutomationDirect.com, in addition to PO accounts, credit cards, and iChecks. On step 3 of your checkout process, simply click on the PayPal option and you will be redirected. From there, log into your account to enter your payment details, return to our store and complete the checkout process. Note that your listed PayPal shipping address may differ from what you entered on AutomationDirect.com. Your AutomationDirect.com address will be used. Shop Now>>
Download Our Group Motor Protection White Paper.
Our newest White Paper, "Group Motor Protection", explains how the usual way of preventing a small motor from drawing too much current is to install overcurrent protection in the form of a circuit breaker or some other kind of limiter. But installations that employ more than one motor might not want to use this approach. In addition to sharing benefits provided by group motor protection, this White Paper also provides detailed information to distinguish between overcurrent and overload protection, as well as when it is more beneficial to provide protection for individual motors over group motors. Download White Paper>>
Lighter Side: There's Something About June
There is an old saying, "Marry in June, you'll have a long honeymoon."  With that in mind, our extensive team of media researchers has scoured the Internet to find the most amazing proposal video out there. While there are way too many to say without hesitation which is the best, here is one that certainly would be near the top. If you are considering how to "pop" the question to your significant other, maybe this will inspire you. Watch the Video>>
AutomationDirect.com
3505 Hutchinson Road
Cumming, GA. 30040