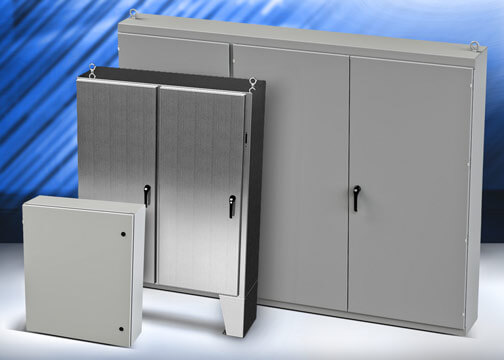 March 17, 2021 – Saginaw has been serving the electrical industry since 1963, specializing in manufacturing top-quality carbon steel, galvanized steel, and stainless steel electrical enclosures built to accurate dimensions. AutomationDirect is proud to add Saginaw's standard stock of enclosures, including freestanding, floor-mount, wall-mount, disconnect, modular, operator system, pushbutton, junction box, and wire trough enclosures, to our already extensive line of quality enclosures.
All Saginaw enclosures are protected with the highest quality powder finish available in the market today. Featured are Saginaw's Enviroline and Enviroline Junction series – stylish, versatile all-purpose enclosures available in a variety of materials and finishes that offer a flush-fitting door with a flange trough collar around the door opening to channel liquids away. The doors are secured by the exclusive SCE concealed hinge, which allows the doors to open 180 degrees and can be removed by simply pulling the hinge pin.
Saginaw enclosures start at $34.00 and are shipped immediately from any of Saginaw's five stocking warehouses.
In business since 1994, AutomationDirect is a distributor offering thousands of industrial automation products for electrical control systems, including PLCs, operator interfaces, AC drives, motors, stepper systems, sensors, motor controls, enclosures and more. Their prices are typically well below the list price of more traditional automation companies because of their business model and focus on efficiency, and the majority of their products are stocked for fast shipping. Plus, get free two-day delivery on orders over $49; some limitations apply. For more information, contact them at 800-633-0405 or visit www.automationdirect.com.
Editorial Contact: Tina Gable
Phone: 678-455-1845
Email: tgable@automationdirect.com
Download: High Resolution Photo