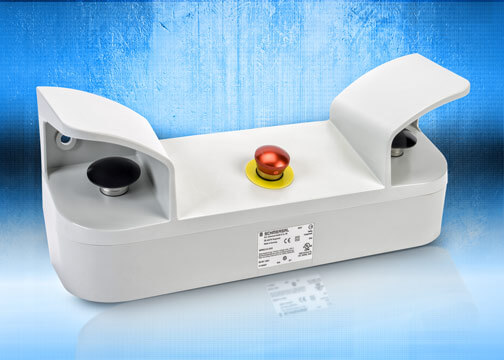 April 7, 2021 – AutomationDirect has added Schmersal two-hand control panels to its lineup of safety products.
Two-hand control systems are used with a special control monitoring relay and require an operator to use both hands simultaneously when initiating a hazardous operation. This forces an operator to keep their hands on the two-hand control actuator and out of an unsafe spot when a system is performing a hazardous operation.
Panels are available in aluminum or plastic and with or without pushbuttons. Replacement pushbuttons and a legend plate are also available.
These new Schmersal two-hand control panels start at $147.00 and have a 1-year warranty.
In business since 1994, AutomationDirect is a distributor offering thousands of industrial automation products for electrical control systems, including PLCs, operator interfaces, AC drives, motors, stepper systems, sensors, motor controls, enclosures and more. Their prices are typically well below the list price of more traditional automation companies because of their business model and focus on efficiency, and the majority of their products are stocked for fast shipping. Plus, get free two-day delivery on orders over $49; some limitations apply. For more information, contact them at 800-633-0405 or visit www.automationdirect.com.
Editorial Contact: Tina Gable
Phone: 678-455-1845
Email:                                tgable@automationdirect.com
Download: High Resolution Photo