Wall Mount Polycarbonate Enclosures from AutomationDirect
Three new sizes of INTEGRA Premium Series polycarbonate enclosures with lift-off screw cover, hinged screw cover and single door hinged cover are now available from AutomationDirect. All are available with clear or opaque cover.
The Premium series features INTEGRA's unique T-Rail mounting system for dead-front panels, swing-out panels, layering subpanels, and/or infinitely variable subpanel height.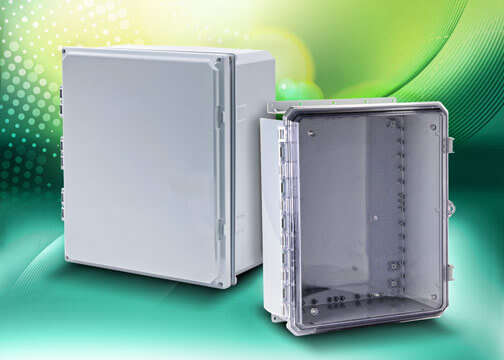 INTEGRA polycarbonate enclosures weigh less than comparable steel or fiberglass enclosures and are engineered for durability and impact resistance, UV stability, chemical resistance and have a wide operating temperature range from minus 40 degrees F to 265 degrees F. The enclosures are NEMA rated and are watertight, non-corrosive, non-conductive, and easy to install and modify.
Additional features include: integrated mounting flanges molded into the enclosure for easier mounting and an integrated latch to provide a clean look and easy opening; extra interior mounting bosses on the rear wall (and lid of opaque enclosures) provide multiple mounting options for DIN rail, back panels, or other components.
Starting at $28.50, INTEGRA enclosures are UL approved and CE, RoHs, REACH compliant. Subpanels and accessories including pole mount kits are available.
Learn more by visiting: www.automationdirect.com/polycarbonate-enclosures
About AutomationDirect:
In business since 1994, AutomationDirect is a distributor offering thousands of industrial automation products for electrical control systems, including PLCs, operator interfaces, AC drives, motors, stepper systems, sensors, motor controls, enclosures and more. Their prices are typically well below the list price of more traditional automation companies because of their business model and focus on efficiency and the majority of their products are stocked for fast shipping. Plus, get free two-day delivery on orders over $49; some limitations apply. For more information, contact them at 800-633-0405 or visit www.automationdirect.com.
Editorial Contact: Tina Gable
Phone: 678-455-1845
Email: tgable@automationdirect.com