A key AutomationDirect value is to be a responsible, involved citizen of the communities where team members live and work. That's one of the reasons the company has served for the past two years as an employer for Internship Forsyth which gives students the opportunity to learn real-world skills by working at local companies.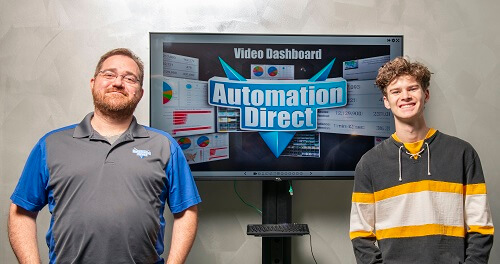 The program, formerly called Work Based Learning, pairs Forsyth County high school students with structured work experiences that connect their career goals and pathways with a productive work environment. When the students enter ninth grade, they choose a career pathway that gives them some advanced knowledge of their field of interest, including marketing, healthcare, criminal justice and engineering. They are matched with an employer for an internship in the field of their choice. This experience gives them a chance to translate what they learn in school into an actual worksite, enabling a smooth transition into the workforce and/or education beyond high school.
Company is Prized Work Location
In addition to giving back to the local community, another reason AutomationDirect participates in the program is that employees love sharing their knowledge and skills with students – and it shows!
"AutomationDirect is a prized work location for interns as the employees provide great work experience, communication and feedback to the students," said Debra Moore, Career Development Coordinator with Internship Forsyth.
Interns Work in Marketing and Engineering
AutomationDirect has two interns from the program working at the company right now in marketing and engineering. The students get to put what they learn in their career classes to practice in a real-world setting.
For two years, Rick Folea, Senior Technical Marketer-Training Coordinator has been coordinating the internship program for AutomationDirect. He commented: "Work based learning students are a total win-win for everybody. These are highly motivated students that we have come to rely on to help us be more productive. We get more work done without hiring an extra employee and they get priceless real-world work experience (and extra cash!). We have even heard stories from colleges about how blown away they were by how much these "high-school" kids knew because of the work experience they got at AutomationDirect.com!"
Tim Wheeler, Senior Technical Marketer-Training Coordinator, also works with the interns. He said "Supplementing 'Work-Based Learning' students into our workforce is a resounding success for our company. They bring a positive energy that really bolsters the entire team. With their help we are able to get the job done without extra head count, while helping the next generation spring into the labor force."
Students Apply Learning to Future Careers
County wide, there are 450 students in Internship Forsyth. Approximately half of them go into a college major related to the field in which they did their internship. However, what is just as important is that the program also gives students the chance to rule out career pathways.
"By the end of the internship, they either love that path or want to change careers," Internship Forsyth's Moore said. "That's important, because changing majors in college can be expensive."
Former program participants have seen great success. One student who completed the program opened his own law firm in Florida, while others work in marketing at Coca-Cola and Victoria's Secret.
"My internship experience at AutomationDirect has been nothing but amazing for me," said Marketing Intern Nolan McGinley. "Having the ability to work for one of the best companies in Metro Atlanta has brought an infinite amount of possibilities to me. I am learning real-world skills that can translate over to future jobs I have as well. Because of Internship Forsyth, I have put myself in a great place to excel in the future business world with the tools I am acquiring at AutomationDirect. "