Positioned on a thin stretch of land in Turkey that connects Europe and Asia, there's a company called Bimed Teknik Aletler that also makes connections. Although not geographical, Bimed's connections provide protection for electrical cables and ensuring safety for companies and people throughout the world.
Founded in 1978, Bimed is a family owned producer of high quality medical and mechanical components. The company's 300 employees design and manufacture a wide range of cable fitting elements, pressure balance elements, connectors, gas springs and disposable medical products. In addition to its Istanbul, Turkey headquarters, the company serves a worldwide customer base from offices in North America, Germany, and Egypt, along with distribution partners like AutomationDirect.
During its 39-year history, the company has become known for its innovation and quality. Bimed has also been consistently recognized for its quality products and contribution to the Turkish economy: it has twice received the award honoring the top 1,000 exporters from Turkey. This designation is determined by the Turkish Exporters Assembly, an organization that facilitates coordination between Turkish exporters and public and private sector organizations. With the world's 13th largest GDP, Turkey has a strong automotive industry as well as consumer electronics and manufacturing such as Bimed. "It is such an honor for our family run business to be recognized in 2015 and 2016 for our efforts to bring Bimed products to the world," said Yakup Gulhihal, General Manager of Bimed. "Every year we strive to manufacture products that are high quality and meet our customers' needs, while at the same time helping to support our country's economic base."
Bimed's Focus on Production Quality and Reliability
From its 215,000-square foot manufacturing facility in Istanbul, Bimed leverages leading technology and practices to create top quality products. The facility houses a state-of-the-art, certified laboratory staffed by 10 research and development engineers, a testing lab staffed by 16 quality assurance experts, injection molding tool protection, metal and plastic part production areas, and an assembly and packaging center.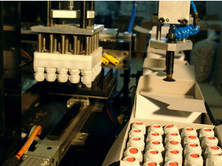 Additional production quality measures abound. Medical products are produced in a clean room environment and are sold globally as original equipment manufacturer (OEM) products. For all product manufacturing, Bimed follows ISO 9001:2008 quality management systems and has received factory approval under both the European Union's Equipment for explosive atmospheres 100 Directive (ATEX 100) and the International Electrotechnical Commission Certified Equipment Scheme (IECEx). IECEx recognizes electrical equipment used in hazardous locations that meets internationally recognized standards. These practices are backed by formal company policies for quality, the environment, information security management, and occupational health and safety.
Gulhihal explains: "We not only follow and comply with quality standards; our company looks for ways to surpass them. That's why we have an on-site research and testing facilities so we can oversee the manufacturing process and materials used. These facilities and the engineers who work there are constantly testing, improving, and developing new technologies that will improve our products and the safety they provide."
Bimed's Cable Glands Provide Protection, Flexibility and Safety
A cable gland, commonly known as a cable connector or cable fitting, is a device designed to attach and secure the end of a cable to electrical equipment. It is used to terminate a cable, seal the connection, and protect the equipment to which it's attached from dust, dirt and liquids, and provide strain relief at the connection. Cable glands are typically made of plastic, brass, aluminum or stainless steel, and often a combination of those materials. They are paired with an appropriately sized and threaded hex nut on a threaded or non-threaded enclosure.
Bimed offers a deep portfolio of metal and plastic cable glands that are used by several industries in conjunction with cable and wiring used in electrical instrumentation and automation systems. They may be applied to many types of electrical power, control, instrumentation, data, and telecommunications cables.
Each cable gland product series in Bimed's portfolio has specific size, material, threading, flammability, and other characteristics, all of which are carefully engineered and then manufactured and tested to match the intended environment and application. They are IP68-rated for dust and water ingress protection and are CE, cULus, and CSA approved.
AutomationDirect and Bimed Partner to Bring Quality Products to the World
As a new supplier for AutomationDirect, Bimed seeks to use the seller's simple and fast ordering and delivery system to bring its products to an expanded audience of customers. "We are incredibly pleased to have partnered with AutomationDirect – a significant move for us on the eve of our 40th anniversary," said Gulhihal. "As we celebrate and pass that milestone, we will continue to innovate and expand our product offerings and embrace new technologies that allow us to maintain our high standards of production. And as the cable gland and connectors market continues to expand, we look forward to continuing and growing our relationship with AutomationDirect for years to come."