We have added several exciting products since our last edition of the Automation Notebook. Here are some highlights about some of those new products including: T1H EBC100 Ethernet link, Non-metal Enclosures, Marathon Motors line extended, 2-pole supplementary protectors, 50 and 75 VA control transformers.
New Module Provides High-Performance, Low-Cost Ethernet Link
The new T1H-EBC100 module provides a high-performance Ethernet link between Terminator I/O and any connected client hardware or software system for applications in PC Control, PLC Remote I/O, or data acquisition. Terminator I/O is a distributed Field I/O system that combines the I/O points with their terminal blocks into
a modular package to save cost and panel space.
The T1H-EBC100 module supports TCP/IP, UDP/IP, DHCP, and IPX at 10/100 Mbps. It also supports MODBUS TCP/IP protocol, the most widely used open protocol in industrial manufacturing.
The module can be configured using an Internet browser to access the module's HTML configuration page, or with NetEdit, a free Windows Software configuration utility.
The module supports the full lineup of Terminator I/O discrete, analog, and motion control modules.
Click here for more information on the new T1H-EBC100 Terminator I/O module
Non-Metal Models Added To Growing Enclosure Line
Several non-metallic enclosure models have been added to AutomationDirect's line of enclosures. Premier series enclosures are available in opaque, hinged cover models with pull latches or screw covers, as well as clear hinged models with screw covers or link lock latches.
Junction box enclosure models are also available. Slimline series junction boxes carry a NEMA 4X rating.
New pushbutton enclosures for 22 or 30 mm size pushbuttons feature lift-off covers with up to seven pushbutton cutouts. The 30 mm multi-hole units are also available with 4, 6, 9, 12, 16, 20 or 25 cutouts.
JIC series enclosures are available in opaque lift-off cover models with four screws; opaque, hinged covers with two screws; opaque hinged covers with quick release latches; hinged covers with link-lock latches and windows; and hinged covers with quick-release latches and windows.
New 3R or 4X control series units are also available.
Carbon steel, fiberglass, stainless steel and aluminum subpanels, as well as a line of accessories, round out the new non-metal enclosure offering.
Click here for more information on the new Non-Metal Enclosures

Marathon Motors Line Extended
The Blue Max® 2000 series of Marathon motors is now available with a shaft-mounted encoder. The encoder is a Dynapar model HS35 and requires a 5-26 VDC power source. It has a line count of 1024 pulses per revolution (PPR) and a differential line driver output. A 10-pin connector is supplied with the TEFC models and a junction box is provided with the TEBC models.
Also new are lower horsepower versions of Marathon Blue Chip XRI® motors. The Blue Chip XRI motor line previously included 40-100 HP models and is now available in 15, 20, 25 and 30 HP versions.
Click here for more information on the new shaft mounted encoder and the new 15-30 HP Blue Chip XRI motors
2-Pole Models Added To Supplementary Protectors Line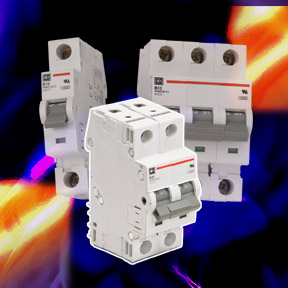 2-pole versions of the Cutler-Hammer WMS line of supplementary protectors are now offered, in addition to existing 3-pole and 1-pole models. The 2-pole protectors are available in models ranging from 6- 60 amps.
WMS Series protectors are UL1077 recognized for applications where branch circuit protection is not required or is already provided. The thermal magnetic devices protect against short circuit and overload conditions.
Click here for more information on the new 2-pole supplementary protectors
50 and 75 VA Control Transformers Added To Offering
Two new models have been added to the existing CPT line of control transformers. The 50 and 75 VA models offer primary and secondary fuse boxes and 230/460 to 115 V. The control transformers are UL, CSA and CE listed.
Click here for more information on the new 50 and 75 VA control transformers