Issue 31 of Automation Notebook is jam packed with new product information. Highlights about some of those new products include: additions to the Productivity3000 product line, enclosure accessories, NITRA pneumatic parts, farm-duty motors, sensors, aluminum worm gearboxes, visual and audible signal devices, and more.
New Serial Communications Module for the Productivity3000 Controller
The Productivity3000 programmable controller is a high-featured system with advanced communication and data acquisition features. The P3-SCM for the Productivity3000 is a 4-port serial communications module with three RS-232 (RJ12) half or full duplex ports; port 4 is half-duplex and is selectable between an RS-232 (RJ12) connection or an RS-485 4-wire terminal block.
All ports support Modbus RTU Master/Slave, ASCII In/Out and Custom Protocol up to 38.4K baud rate. Using multiple P3-SCMs (up to 11) in a Productivity3000 system provides additional serial ports to connect to many peripherals such as HMIs and message displays (C-more, C-more Micro, ViewMarQ, etc.), drives (GS drives, SureStep, SureServo, etc.), weight scales, printers and most any Modbus or ASCII device. The P3-SCM module is $285.00.
Learn more about the P3-SCM. [hozbreak]
 More accessories for Hubbell-Wiegmann enclosures
Starting at $37, drip shields protect door hardware from dripping water and settling dust. Steel and stainless steel window kits are used indoors on NEMA 12 and 13 enclosures. Kits are fully gasketed and start at $103. Heavy gauge steel folding shelves start at $165.
Learn more about the full line of Hubbell-Wiegmann enclosure accessories. [hozbreak]
 General Purpose Solenoid Directional Control Valves
NITRA® pneumatic solenoid valves
are available in a variety of configurations. With 33 new part numbers, there are now more valve choices in size and volume with all the same features and benefits of the existing valves.Ten additional smaller body sizes (all 1/8" NPT ports) and 8 additional larger body sizes (all 1/2" NPT ports) are now available. NITRA pneumatic solenoid valve prices start at $18..
To learn more about NITRA pneumatic valves, click here. [hozbreak]
0.5 to 5 HP Marathon MAX+ series AC motors with integrated encoder
The 230/460 VAC MAX+ motors replace Permanent Magnet DC (PMDC) systems,  multi-speed motors, single phase motors, and are a variable speed upgrade for fixed speed motors. The MAX+ motors with integrated encoder provide exceptional performance with AutomationDirect DURApulse or GS series drives. MAX+ series motors with encoder are UL Recognized, CSA Certified, CE Marked, have a three year warranty and start at $655.
Learn more about the full line of Marathon AC motors. [hozbreak]
 Submersible Level Sensors / Transmitters
ProSense® SLT1 series submersible level sensors have a 1-inch diameter housing and are available in cable lengths from 30 to 140 feet and 0-5 to 0-50 psig sensing ranges. The 2.75 inch diameter SLT2 series is available in cable lengths from 30 to 100 feet and 0-5 to 0-30 psig sensing ranges. SLT series sensors start at $299, have a one-year warranty, are CE marked and approved for intrinsically safe applications.
To learn more and about the ProSense SLT series submersible level transmitters, click here. [hozbreak]
 DC rectangular photoelectric sensors
AutomationDirect's new QM series photoelectric sensors are IP67-rated sensors available in three-wire NPN or PNP styles and with visible red and infrared versions. The mini-rectangular photo eye sensors are constructed with plastic housings and have either an attached two-meter output cable or an M8 quick-disconnect connector. The series includes diffuse, diffuse with background suppression, retroreflective, retroreflective for transparent objects, and through-beam styles. All retroreflective models include one rectangular reflector; through-beam models are sold as an emitter and receiver pair. All models have a selectable light-on/dark-on output setting; select models are fitted with an easy-to-use potentiometer for setting switchpoint distance. The QM series sensors start at $35, have complete overload protection, and are available in sensing ranges up to 30m. Backed by a one-year warranty, QM series photoelectric sensors are cULus, CE and RoHS approved.
Learn more about the new QM series photoelectric sensors. [hozbreak]
IronHorse® Aluminum Worm Gearboxes
IronHorse worm gearboxes with aluminum alloy housings offer a lightweight design available in 30 to 75mm frame sizes and gear ratios from 10:1 to 100:1. These gearboxes are ideal for reducing output speed or running two loads from one motor. IronHorse aluminum worm gearboxes start at $88.
View the complete line of IronHorse gearboxes. [hozbreak]
EtherNet/IP support added to Productivity3000 controller
The Productivity3000 controller now supports the ODVA's EtherNet/IP as a standard protocol. Through its embedded Ethernet port, the P3-550 CPU can support EtherNet/IP configurable as a Scanner or Adapter (or both simultaneously). The P3-550 CPU can communicate to devices using either Explicit messaging or Implicit "I/O" messaging methods. These two common implementations offer access to the majority of the EtherNet/IP devices available in the industry, including third-party controllers, drives and other I/O hardware. In Scanner mode, the P3-550 CPU supports up to 128 total connections with a maximum of 32 devices. Enabling the CPU to support and exchange EtherNet/IP messages simply requires completing fill-in-the-blank style configuration and Message instruction windows in the programming software.
Learn more about the P3-550 CPU and the ProductivitySuite programming software. [hozbreak]
More WERMA visual and audible signal devices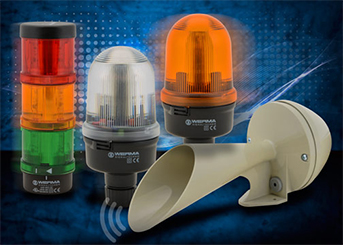 IP65-rated pre-assembled LED stacklights are available in two or three-light styles using red, green and yellow elements; prices start at $135. 98mm diameter tube mounted beacon lights include permanent/blinking/rotating LED models and halogen rotating mirror models. Prices start at $44. Signal horns with tone volumes from 83 to 108dB start at $38.
See the full line of WERMA optical and audible signal devices and accessories. [hozbreak]
IronHorse® Farm Duty, 1-Phase AC Motors (2 – 5 hp)
IronHorse Farm Duty motors are designed for applications requiring high starting torque and moderate starting current, and are used to power agitators, augers, compressors, feeders, hay hoists, grinders, blowers and other farm equipment. These motors have robust cast iron end housings with rolled steel bodies and are classified as NEMA Design L, general purpose motors with TEFC (Totally Enclosed Fan Cooled) enclosures. The motors operate on single-phase 230VAC at 1800 RPM and are available in 2, 3 and 5 horsepower models. With a 2-year warranty, IronHorse farm duty motors start at $309.
Click here to learn more about IronHorse motors. [hozbreak]
New AcuAMP® AC and DC voltage transducers and additional current sensors
VACT series single-phase AC voltage transducers are available in two sizes; 150V range for monitoring 120VAC systems and 500V range for monitoring 208, 240, 277 or 480VAC systems. VDCT Series DC voltage transducers are available in 15V range for monitoring 12VDC systems and 50V range for monitoring 24, 36 or 48VDC systems. Priced at $135, the voltage transducers feature a 4-20mA output, are 24V powered and are 35mm DIN rail mountable. Made in the USA, AcuAMP voltage and current transducers are backed by a 5-year warranty.
To learn more, click here. [hozbreak]
Liquid Level Sensors/Switches and Controllers
Flowline® level sensors/switches provide ultrasonic, vibrating fork, capacitive and buoyancy sensing technologies for a variety of applications. The intrinsically safe ultrasonic level switches provide reliable liquid level detection of chemical, solvent, hydrocarbon and petroleum based liquids. Flowline level controllers are an easy-to-configure solution for controlling valves and pumps for automatic empty/fill of tanks as well as high and low level alarming. Flowline level sensors and level controllers start at $102.
Click here to learn more. [hozbreak]