If your company has remote sites that need to be monitored, and if you're looking for a way to do this without making periodic rounds to check each site, then remote monitoring may be the answer. And if you're looking for a cost effective yet powerful way to implement remote monitoring, embedded HMI is a solution worth considering.
PC-based HMIs work well to provide local operator interface and remote monitoring at many pumping stations and other remote locations, but embedded HMIs can provide many of the same benefits while saving time and money.
Why Monitor Remotely?
Many remote locations have been running unattended for years without remote monitoring, but companies are now implementing off-site access because it allows a single user to monitor and maintain many remote sites. Not only can a single user monitor multiple sites remotely and simultaneously, he or she can solve problems without going to the site by accessing the HMI directly, and the control system through the HMI.
And, this monitoring can be automated by having emails and text messages pushed to personnel, alerting them to immediately respond to any pressing issues. Once alerted, remote personnel can access the HMI using any web browser.
To PC or Not to PC
Everyone knows what a PC is, and a PC-based HMI is simply packaged software running on a PC. Alternately, a PC-based HMI can be software written by the end user, but this approach is less common.
Embedded HMI is a less familiar term and requires more explanation. Control and monitoring software running on an embedded operating system (OS) constitute an embedded HMI, like AutomationDirect's C-more. An embedded OS requires much less processing power and memory than a PC-based HMI because it performs a single function, in this case hosting the HMI software.
This makes embedded HMI less expensive than PC-based HMI, and also provides greater OS and application longevity, along with these other advantages:
More compact
Simpler maintenance
Easier installation
Configuration software less complex
More suited for harsh environments
 Going Mobile
Remote support personnel can access embedded HMIs on any platform capable of running a web browser including PCs, smartphones and tablets. This is because most embedded HMIs, including those from AutomationDirect, have built-in web servers.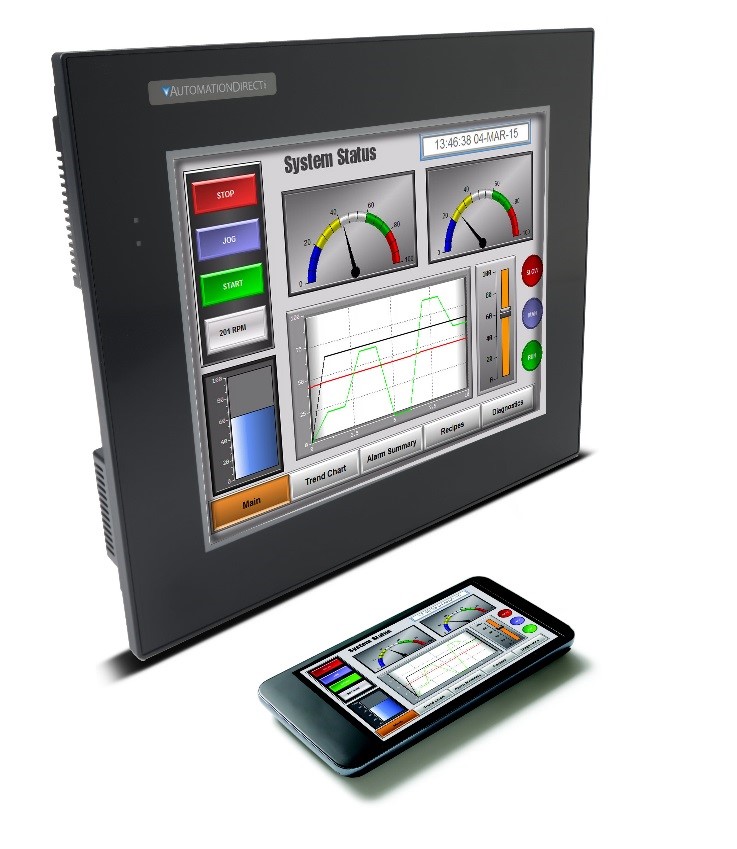 To establish an embedded HMI as a web server and remotely access it via any web browser, simply follow these steps:
Establish an HMI Internet connection
Configure the HMI's IP address
For each remote user, setup logon security, password and access level at the HMI
Each remote user can now access the embedded HMI through any web browser using the login credentials configured at the HMI
PC-based HMIs are needed for some complex applications, but most remote sites can be effectively monitored with an embedded HMI—saving money and space while simplifying installation, setup and maintenance.
This blog post is based on the article titled Embedded Human Machine Interfaces Expand the Reach of Remote Monitoring. This article was authored by Greg Philbrook, the HMI Product Manager at AutomationDirect.com and ran in the May issue of Pumps & Systems magazine.