In 1910, Johannes Schmalz opened a razor blade factory in Glatten, Germany. Soon afterward, customers around the world clamored to shave with the company's "Glattis" blades. Fast forward more than 100 years and, today, Schmalz is the global market leader in vacuum automation and customized ergonomic handling solutions as measured by revenue and breadth of product range. Customers in the logistics, glass, metal, food, automotive, packaging, and wood industry sectors worldwide now clamor to use Schmalz's vacuum automation and ergonomic handling solutions. They also want to work with Schmalz to convert their production facilities to take advantage of the efficiencies that digital automation offers.
How did Schmalz make this big shift in just over a century? Its formula for success is simple. Since its founding, Schmalz has continuously innovated to stay on the forefront of customer needs and market opportunities. It regularly assesses markets and constantly looks for ways to offer new products and services to its customers.
"Since my grandfather began the business, innovation has been a very important focus for the company," said Dr. Kurt Schmalz, the current company leader. "We spend nine percent of our annual revenue every year on research and development and proudly hold more than 580 patents."
This consistent focus on improvement has fueled the private, family-owned company's growth. Schmalz now sells its products and services in 80 countries. It also employs 1,500 people at its Glatten headquarters and its 20 international locations which include India, Japan, China, and the United States. Many Schmalz employees have worked for the company for more than 10 years and they are proud of its high employee retention rate and especially their many "Employer of the Year" awards.
In the U.S., Schmalz's headquarters are in Raleigh, North Carolina, where it has been located since 1993. Schmalz employs more than 100 people there and is in the middle of a facilities expansion. When that project is completed in May 2022, the facility will have an additional 100,000 square feet of space. Schmalz then plans to expand its offices, make them more energy efficient by adding solar roof panels, and develop an adjacent two-acre property to add a 30,000-square- foot building.
"The United States is an essential market for Schmalz," Dr. Schmalz said. "We will be investing heavily in our North Carolina facilities and expanding our footprint. That allows us serve this key market easily and efficiently."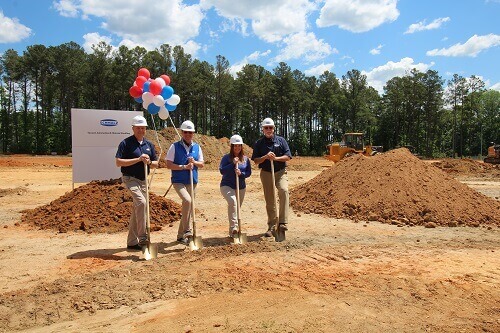 AutomationDirect Sells Schmalz Pneumatic Vacuum Grippers and Parts
At AutomationDirect, customers can choose from a selection of Schmalz pneumatic vacuum grippers and related parts which are widely used in pick-and-place applications. Vacuum products are an efficient means of moving products large, small, and of varying sizes. They are used in production facilities in many industries to ensure products and materials move efficiently, quickly, and safely.
The Schmalz lineup at AutomationDirect includes suction cups in a flat style up to 60mm in diameter made of Elastodur; bellowed style cups to 78mm made of Elastodur, silicone or nitrile rubber; vacuum ejectors that support a suction rate of up to 860 I/min. AutomationDirect also offers Schmalz replacement cups, vacuum couplers, and mounting accessories, including vacuum spring plungers for use with suction cups that lift objects of various heights.
A History of Transformation and Award-Winning Innovation
Schmalz has a long history of transforming its offerings to provide customers with innovative solutions. In 1945, Johannes' son Artur began running the company and moved Schmalz into a new line of business – transport equipment. Soon, the German postal service and airports used the company's equipment to deliver letters and luggage to customers. Schmalz launched its airport apron equipment in 1961 which were stairways that transported passengers into aircraft, including the Boeing 707, the largest plane at that time.
In 1984, Dr. Kurt Schmalz, grandson of the founder, moved the company's focus to vacuum technology. Just five years later, the company began offering all the elements needed to create complete vacuum systems. His brother Wolfgang Schmalz joined him in managing the company in 1990. Together, they transformed Schmalz into a thriving international enterprise, opening a subsidiary in Switzerland in 1998, and then moving into other countries, including the United States and China.
In the early 2000s, Schmalz opened an online shop to allow customers to order products directly. It also started selling the first IO-link vacuum generator which led to the coining of the term Industry 4.0. In 2018, the company began offering digital components and services, helping industries move to digital factories with greater efficiency and economy. Just a year later, Schmalz launched grippers for robots and bin-picking solutions. In 2020, Schmalz was awarded the "Sustainability Prize" as one of the three most sustainable medium-sized companies in Germany.
Complete Vacuum Product Lines and Consulting
Today, Schmalz boasts four main vacuum product lines, as well as consulting services. It offers a wide range of vacuum automation products, including individual components such as suction cups and vacuum generators. It also sells complete gripping systems and clamping solutions for holding workpieces such as on CNC machining centers. Its handling business offers a vast array of handling solutions with vacuum lifters and crane systems for industrial applications from 20 – 10,000 pounds.
Schmalz also consults with customers to find ways to make their production and logistics processes more flexible and efficient, while also preparing them for the increasing trend toward digitalization.
Tradition Fuels Schmalz's Future
Schmalz's successful past drives its bright future, says Dr. Schmalz, who noted that the company will continue to focus on anticipating customers' needs, researching ways to offer innovative products, and driving sustainability in its operations and offerings.
"We look to the past to fuel our future," he said. "An important way to do that is through sustainability. That's a long tradition with us and is our compass that keeps us on course in economic, ecological, and social issues. We think long-term and know that becoming carbon-neutral in all our facilities is important. We are also committed to doing good in the countries and communities in which we do business."
Goals such as these drive the company to greater accomplishments along with three core values that support everything Schmalz does: trailblazing, sustainable, and inspiring. These values help shape the way Schmalz does business every day and that impacts customers and partners worldwide.
Given its past achievements and its continued focus, Schmalz is well-positioned to achieve these goals and enjoy future success.
"We want to serve customers in innovative ways for the next 100+ years," Dr. Schmalz said. "As a third- generation family business we can act independently and autonomously. We're nimble and quick to react to our customer and market needs. That unique difference has helped us put into place the team to best serve our existing customers and new customers – positioning us to be ready for a bright future."