This white paper is a general guide to the specification, design and installation of automated control systems. The information and references are presented in a logical order that will take you from the skills required to recognize an operation or process suited for automating, to tips on setting up a program, to maintaining the control system. Whether you are an expert or a novice at electrical control devices and systems, the information in the Condensed Guide to Automation Control System Specification, Design and Installation White Paper should give you a check list to use in the steps to implementing an automated control system.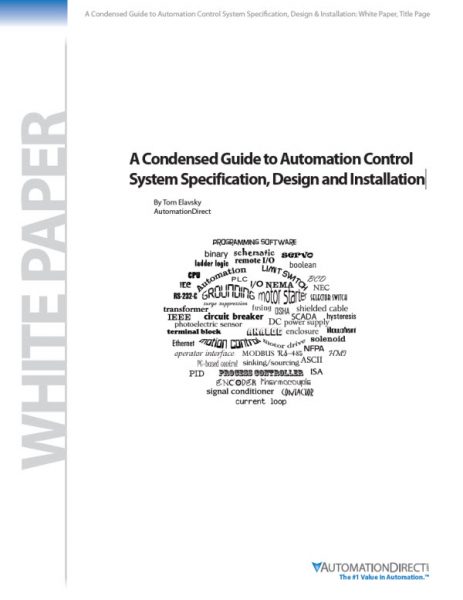 What's Inside?
Part 1, covers the topics of Safety and Identifying an operation or process that could benefit from automation. The white paper then covers control device specification, control system design and construction, control system installation, and finally control system maintenance. The topics are broken down as follows:
Part 1 – SAFETY and IDENTIFICATION
Part 2 – SPECIFICATION
Part 3 – DESIGN and BUILD
Part 4 – INSTALL and MAINTAIN
It is our intent to produce this whitepaper as a usable guide, with additional, including a typical "real world" application that can be followed from concept to completion. It is not our intent for the guide to cover every possible topic dealing with automation control systems or to even suggest that the topics being covered are fully detailed. Instead, the topics are aimed at giving the reader a good starting reference for automated control systems.
The A Condensed Guide to Automation Control System Specification, Design and Installation White Paper can be downloaded as a PDF here.
To learn more about AutomationDirect, please visit: www.AutomationDirect.com.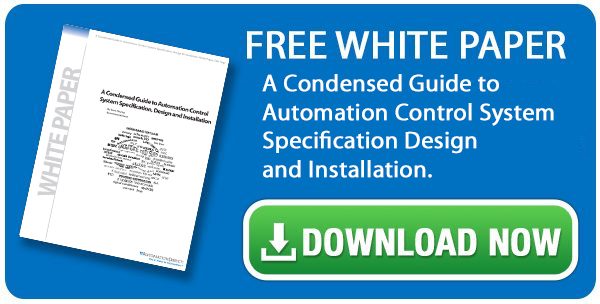 [hozbreak]
About AutomationDirect:
In business since 1994, AutomationDirect is a distributor offering thousands of industrial automation products for electrical control systems, including PLCs, operator interfaces, AC drives, motors, stepper systems, sensors, motor controls, enclosures and more. Their prices are typically well below the list price of more traditional automation companies because of their business model and focus on efficiency and the majority of their products are stocked for same-day shipping. Plus, get free two-day delivery on orders over $49; some limitations apply. For more information, contact them at 800-633-0405 or visit www.automationdirect.com.