AutomationDirect Supports National Champion Robotics Teams
AutomationDirect has always been a huge community partner and one of their primary missions is to inspire young minds in STEM career paths (Science, Technology, Engineering and Math). AutomationDirect is the founding sponsor and supporter of the Forsyth Alliance Robotics, an umbrella organization that supports the robotics program in Forsyth County, Georgia – the home of AutomationDirect.
The program started in 2006 as a single robotics team of 11 students and became a vision of having a robotics team in every school in Forsyth County. Today the Alliance has grown to over 125 robotics teams in the county with some schools operating over a dozen robotics teams. It has been a huge success and has gotten thousands of students interested in technology.
Students start in elementary school with Lego robotics. By the time they reach high school they have an opportunity to participate in FIRST Robotics, VEX Robotics, VEX-IQ Robotics, BEST Robotics, MATE ROV Robotics, and even electric car competitions.
However, the students aren't just participating, they're winning! It's not uncommon to see Forsyth Alliance teams competing at all levels and at regional and national championships. In particular, each year the Forsyth Alliance produces teams that qualify for the VEX World Championships. This is no small feat, considering they are competing against 10,000 other teams for the same honor. But this year it's extra special; the South Forsyth team took third place at the VEX World Championships, missing second place by only three points.
AutomationDirect fundamentally believes in giving back to the community and it is especially rewarding when we see programs like these get young minds excited about and engaged in learning.

Congratulations to the Forsyth Alliance and the South Forsyth team! We are behind you all the way!
AutomationDirect Ranked as Atlanta's Top Midsize Workplace
AutomationDirect has been named Metro Atlanta's Top Midsize Workplace by the Atlanta Journal Constitution.
Employees voted the company to the top position in the medium-size company category by completing an online survey. The Atlanta Journal Constitution, partnered with Workplace Dynamics, hosted the survey which focused on specific categories relating to a company's workplace culture; the survey covered areas such as company direction, workplace conditions, execution, management, career, and pay and benefits.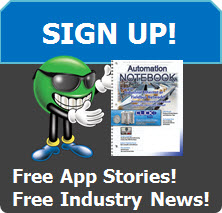 In order to be considered a finalist, each company must reach a minimum level of employee participation, based on its number of employees. Companies were then ranked and finalists chosen in each size category based on their overall composite score. Winners were chosen based strictly on the results of the survey. According to the Atlanta Journal Constitution, winners are, in essence, chosen by the employees themselves. This year, approximately 1,000 companies were nominated.
Additionally, company captain Tim Hohmann was among the heads of three companies receiving the Leadership award, honoring those who lead by example.
Expressing gratitude, Hohmann commented, "Associates want to be accountable for achievable goals and want to be appreciated and awarded for achieving them. In addition, they want to have faith in the long-term viability
of their company as a form of family security. Companies should work closely with associates to establish these goals and must communicate regularly and openly with progress made and problems encountered toward achieving these goals. The end result will be high morale and increased productivity."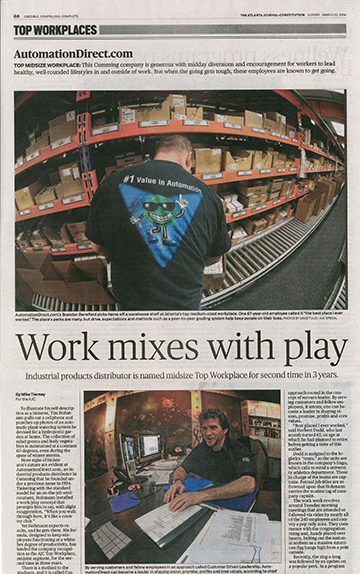 The most recent award reflects the ongoing excellence of AutomationDirect's company culture. The company won the same awards in 2012. Also, in 2011, AutomationDirect was recognized as the fourth in the top 25 best small and medium companies to work for in America by SHRM/Great Places to Work Institute. For this award, two-thirds of the organization's score comes from employee survey responses; one-third of the score includes assessment of organization practices and perspectives from the leadership team.
Among their other recognitions, since 2001, the company has consistently been voted "Best in Service" by Control Design magazine readers.
Read the article in the Atlanta Journal-Constitution here: http://bit.ly/1iYjRvh.