AutomationDirect's CLICK PLUS PLC is the next generation platform for delivering reliable and familiar functionality for basic control applications, combined with advanced features like Wi-Fi, data logging, and increased security measures. All starting at just $89!
On April 25, 2022 the AutomationDirect CLICK PLUS PLC was announced as the Plant Engineering 2021 Product of the Year Bronze Award winner in the "Controls System" category. Check out the link here. The Plant Engineering audience votes on which products receive this honor.
These new CLICK PLUS PLCs carry on the tradition—established over 12 years ago with the original CLICK Series—of providing extreme value and versatility, enabling plant engineers, electrical technicians, machine builders, and other users of all types to easily create practical control systems and advanced IIoT applications.
CLICK PLUS PLC CPUs are offered in three versions—wired, wireless, and wired/wireless. Models are available with built-in Ethernet and serial ports, and with native support for common industrial OT and IT communication protocols like Modbus RTU/TCP, EtherNet/IP, ASCII, the IIoT-standard MQTT, DHCP, SNTP, and DNS. Wi-Fi models simplify installation and reduce cost because no network cabling is needed, while a Micro-USB port facilitates in-an-instant programming connections. A free mobile app enables convenient CPU provisioning and provides other useful features.
With a stackable micro modular form factor providing various expandable I/O options, along with the versatile CPU option slot modules, hundreds of I/O configurations are possible, with up to 156 discrete or 60 analog points, and one version offers up to 32GB of data logging to an external microSD card.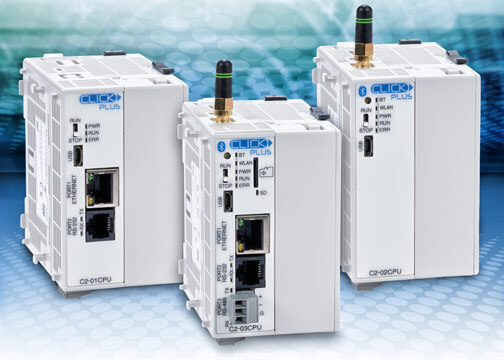 CPUs are programmed using the same FREE software as the original CLICK PLCs. A simplified yet robust instruction set and free online training help end users get started quickly, while advanced capabilities like high-speed counting and PID loop control are available to handle a wide range of applications. These connectable PLCs incorporate updated security measures like password management, encryption, and port management.
Winning the Plant Engineering 2021 Product of the Year Bronze Award for Control Systems demonstrates the enthusiasm and support of qualified publication subscribers operating throughout industry. End users everywhere are discovering they can create affordable modern-day control solutions, including easy and advanced IIoT and cloud connectivity, using the CLICK PLUS PLC Series.
More information on the innovative CLICK PLUS PLC here!