Transformers to the rescue! No, not the kind of "transformers" made famous by Hasbro™ and Hollywood. These transformers manufactured by Hammond Power Solutions came to the rescue of the much-loved Canadian event known as the Calgary Stampede after massive flooding in 2013 brought the city to a standstill and threatened to cancel the event that more than 1 million people attend every summer. Hammond Power Solutions, in conjunction with fellow distributors, provided priority service for all transformer needs within the region. Pro
duct from Hammond Power Solutions was rushed to the site to allow the complete retrofit of the Saddledome and Fairgrounds. The result was a great success and the event went off as planned.
Even under normal conditions, Hammond Power Solutions (HPS) can be relied upon to support its customers' needs as it has grown to become the largest dry-type transformer manufacturer in North America.
A Century of Change and Growth
Nearly 100 years ago, Oliver Hammond established O.S. Hammond and Son in 1917 in Guelph, Ontario, Canada to build various tools for the foundry industry. O.S. Hammond and Son began making tube radio sets, battery chargers and other related products.  Their philosophy for quality and success was simple:  "Build the product like you were going to use it yourself." Oliver passed away in 1925 and his four eldest sons took over the business. It was in 1927 that the company changed its name to Hammond Manufacturing.  Along with the name change came other transformations and one that would continue to impact the company 97 years later — the Hammond family moved their focus from radios to transformers.
With the start of World War II in 1939, Hammond started to build specialized transformers and reactors for military communication and radar equipment. Almost overnight the company grew from less than 50 employees to more than 300 to satisfy the critical surge in demand for transformers. Even after the War, the need for transformers increased over the years as Hammond Manufacturing grew from a small family-owned business in the shortwave radio market to the industry leader in magnetic transformer design and manufacturing.
In 2001, Hammond Manufacturing officially became two companies each led by a Hammond family member.  Rob Hammond headed Hammond Manufacturing, which manufactures electrical enclosures, electronic packaging, power bars, and electronic transformers. Bill Hammond renamed the transformer division Hammond Power Solutions, which manufactures custom and catalog transformers and related magnetics. This reorganization has enabled both companies to pursue their strategic goals independently, providing an orderly succession to the next generation of the Hammond family, and an opportunity to create increased enterprise and shareholder value. Hammond Power Solutions (HPS) now has multiple manufacturing facilities throughout Canada, United States, Mexico, Italy and India and regional distribution centers throughout North America.
Transformers have been and remain an essential part of our electrical infrastructure.  Everywhere we look there is a transformer supplying power to an industrial, commercial or residential area. HPS offers a variety of dry-type transformers and reactors with thousands of standard transformers from 50VA to 5MVA. The company's multiple manufacturing facilities enables HPS to offer the broadest range of both standard and special reactors, control and dry-type transformers anywhere.
HPS offers standard products available across four categories:
[list style="orb" color="grey"]
Control and Automation
Low Voltage Distribution
Medium Voltage Distribution
Potted and Specialty
[/list]
In today's transformer industry, much has changed. Bill Hammond, CEO and Chairman of the Board for HPS, explains: "There's no doubt that the industry has changed and will continue to evolve over the years. We've seen higher government-mandated efficiency levels, U.S. manufacturing consolidation, additional off-shore competition, shorter cycles for custom items, larger dry-type power units being required, increased dependence upon online sales and marketing, and more non-linear loads on the power grid affect what we can design and sell. Many different challenges and opportunities but we work hard every day to make our customers happy and keep ahead of the market."
Taking Care of Business, People and the Planet
Today, HPS remains in the same place it started, Guelph, Ontario, but now with nearly 1,400 employees worldwide and a headquarters that consists of engineering, Canadian sales, Canadian customer service, IT, supply chain management, investor relations, quality assurance, marketing, human resources, accounting, and manufacturing. More than 300 employees are located at the Guelph facility. It's here that the company takes care of its customers and its people with additional support to service U.S. customers from an office in Baraboo, Wisconsin.
HPS is constantly looking for ways to better serve its customers and it does this by staying ahead of the competition through diversity of its products, markets, and people; global support; and product depth. Bill Hammond said, "HPS continues to be the industry leader in dry-type transformer technology in North America. Our global reach into new markets allows us to build on the traditional product type into complimentary products such as cast resin and liquid-filled transformers." Global reach for HPS doesn't mean just on land. The company's transformers can be found on the oceans as well. HPS has ABS-type approved products that have been engineered to meet the unique requirements of commercial and pleasure ships, offshore oil rigs, tankers, and other harsh marine applications.
While products are the key to growth at HPS, people are also an essential ingredient to the company's overall success. Within HPS, employees are encouraged to work together for continuous improvement of themselves and the needs of the company. This cross-functional team-based program allows employees to help the company improve as well as learn about different areas of the operation and how everyone's job impacts the company's achievements and advancement. And, of course, HPS transformers help those in need outside the company. Not only has HPS assisted those in need in Calgary after the flooding, they also helped during the U.S hurricanes of Katrina and Sandy. After each of these devastating storms, HPS rushed orders and designs through to help the affected areas cover the damage that the hurricanes had caused.
Also benefitting people and the planet is energy efficiency. HPS is supporting the U.S. Department of Energy's new energy efficiency levels for transformers. Under normal operation a transformer is always on (typically at 35% average loading), making any energy efficiency improvements more significant over an extended period of time.  This means that customers will be rewarded in two manners:  they are reducing greenhouse gas emissions and there is an economic payback through reduced energy costs.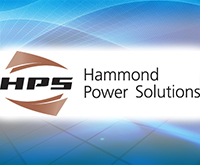 New Technology and Emerging Markets
As HPS continues on its path of growth and success, CEO Bill Hammond looks to the future of new technology and energy sources. "Growing demand and continuing industry consolidation keeps the transformer industry future bright as renewable energy is becoming increasingly cost competitive. Investment and opportunities for growth in this market are as a result of the increasing need to develop renewable energy and respond to stringent environmental regulations. Countries worldwide are relying
on alternative energy for generating electricity. HPS is striving to be a major player in both the solar and wind markets," said Hammond.
With its course set for the future, HPS will continue to be a reliable provider of transformers for industries, businesses, residences, and those in urgent need. Looking back nearly 100 years, the Hammond family has much to be proud of and much to look forward to as it moves into its next century of operation.\
To read more supplier profiles, click here.
[hozbreak]
[hozbreak]