Machine builders, robot builders and system integrators offer advice for maintaining industrial machines.
In the May 2019 issue of Control Design magazine, the cover story focus was machine maintenance. The story, titled Machine design with maintenance in mind, discussed best practices for maintaining machines, with input from numerous sources including machine builders, robot builders and system integrators. Let's start by looking at machine maintenance from the original equipment manufacturer (OEM) point of view.
OEMs Know Their Machines
Ideally operators would like to be able to load a part, push a button and have a machine pop out a perfect part every time," says Mark Horton, chief engineer, advanced process technology, at Kollmorgen in the cover story. "The machine would require no changeover, and the tooling would never wear out. Also, they would never have to perform any maintenance. Managers want pretty much the same thing. They want to have a stable process with no unplanned downtime. This makes planning and execution much easier. Since the scenario I've presented almost never exists, especially in a low-volume, high-product-mix environment, much can be done to improve machine reliability and reduce its operational maintenance during the
design phase."
As the cover story points out, it's important to design and build machines that will exceed the end user's expected product lifecycle. "The best method for achieving a long machine life is utilization of quality, proven and commercially available components within our designs and providing a thorough maintenance manual and schedule," says Dean Colwell, controls manager, assembly, welding and AGV Systems at Fori Automation in Shelby Township, Michigan. "Fori also trains the end users during the buyoff and installation phase of the project. This is important to ensure the maintenance schedule is completed on time and as expected. Completing the preventive maintenance will help to keep the machine up and running for its expected life (Figure 1)."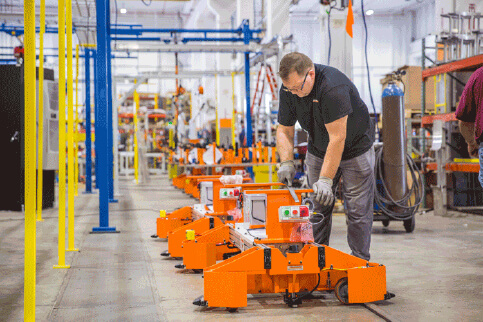 Another OEM chimes in with his thoughts in the cover story. "Our equipment customers are performing less scheduled maintenance than in years past", says Doug Putnam-Pite, director of software development at Owens Design in Fremont, California. "It therefore behooves us as tool designers to develop robust tool designs that can work for extended periods of time without routine maintenance," he says. "Additionally we need to ensure that the software in the tools can detect errors and fail in a safe state without damaging the mechanisms in the tool."
OEMs are expected to provide their customers with information regarding which items and procedures are needed for preventive maintenance. "In particular, many ask about lubrication points and frequency of replacement for wear items," says Mike Krummey, electrical engineering manager at Matrix, a ProMach brand, in Saukville, Wisconsin in the cover story. "Since the beginning, Matrix focused on designing our machines with ease of cleanability. This allows for a more sanitary operating machine and one that is inherently more reliable as the preventive-maintenance procedures are very simple and fast to perform. If these things are too difficult and time-consuming, there will be a higher likelihood of those procedures being ignored and not performed."
"At Matrix, our control systems follow the same design intent as the mechanical componentry—simple is inherently more reliable," says Krummey. "If many complicated components and dependencies are present on a machine, there is a greater chance of increased downtime. Control-system reliability is also a function of the number of machine sensors. The fewer sensors, the more reliable the system will be, as you can't have downtime for a damaged sensor that isn't on the machine. Control programs can be developed that reduce the number of sensors and thus increase reliability and continuous uptime."
"Maintenance information can be integrated into the control system and provided via the operator screens," says Colwell at Fori Automation in the cover story. "Information such as cycle counts, run time and maintenance schedules can be made available, which will help to ensure that preventive maintenance is completed within the expected time frame. Additional maintenance information of this sort can be pushed to a MES and other maintenance databases and dashboards (Figure 2)."
I Robot, You Maintain
According to the cover story, a typical robot is designed to achieve more than 10 years of life with proper maintenance, says Jason Tsai, vice president, product development at Fanuc. "Maintenance items can include cable, sensors, mechanical drive components, electronic hardware, calibration and grease," he says. "Proper maintenance is critical to keep the machine functioning properly and avoid any premature component failure. For a high-throughput production factory, any machine breakdown could cause significant production downtime and profit loss, which can impact the business' bottom line (Figure 3)."
Product reliability is a must-have requirement in production factories with robot automation, continues Tsai. "If the machine is designed poorly with low product reliability or safety design margin, the machine breakdown can cause production downtime and significant profit loss," he says. "Therefore, proper maintenance and high product reliability are absolutely critical to maintain high production throughput and increase profitability."
Robots can present unique maintenance challenges. "They answer to the laws of physics, but they can't communicate that easily," says Sam Bouchard, CEO, Robotiq in the cover story. "An interface, whether it's on a machine, in a robot teach pendant or coming from a monitoring software, allows us to know more about what's going on with the equipment and taking the right actions to prevent problems and of course to improve production."
"It may be basic to say that a broken machine can't make parts, but oftentimes the fight that maintenance has to deal with is its own plant management," says Daniel Moore, tech support manager, Universal Robots in the cover story. "Whether you're talking about robotics or my past life in laser welding systems and automatic monitoring systems, if there's a cause for repair, then you basically have two options: Do it right, carefully and slowly the first time, or guarantee another, worse failure."
Pressure on plants to produce parts right now often means that there is pressure to not do it right and leave the failure to another shift or another week, continues Moore. "Ultimately this is a horrible idea for any company, but it's often the kind of thing I saw working on laser systems in automotive suppliers or in the auto shops themselves," he explains.

An Integrator's Viewpoint
System integrators have experience with many different types of machines in a wide variety of production environments, giving them keen insights. "A best-practices design approach needs to be taken when specifying components in automation control panels, so that the selected parts are not operated at or near their design limits," says David Paul, engineering design manager at Maverick Technologies a member of CSIA, headquartered in Columbia, Illinois in the cover story. "There are also best-practices design choices to include surge suppressors, electrical filters and other similar devices in control panel design. While these devices can potentially increase up-front machine costs, there is a long-term payback in reduced maintenance and component failures."
Unfortunately, due to the highly technical nature of these added components, many purchasing decisions are made solely on a machine-cost basis, continues Paul. "This is the tradeoff that occurs between capital expenses (CapEx) and operating expenses (OpEx) budgeting within many companies," he says (Figure 4). "During projects, many times the corporate-level project team is focused on staying within a CapEx budget but not so concerned with long-term OpEx costs. Operations teams are much more focused on OpEx costs because of their role in day-to-day plant operations and maintenance. Some companies now involve plant operations in CapEx equipment selection, which is a best practice to assure minimal long-term maintenance is required."
Another system integrator adds their point of view; Roger Beam, principal engineer at Optimation, a member of CSIA, in Rush, New York, provides a list of best practices of interest to managers and operators when it comes to machine maintenance including:
• maximize mean time between failure
• minimize time to repair
• maximize overall equipment effectiveness by minimizing unscheduled downtime
• provide easy access to equipment requiring frequent adjustment, inspection and/or replacement
and points of lubrication
• provide or accommodate means of lifting heavy components
• provide components sized for continuous 24/7 duty cycle with a service factor of safety
• design guarding for easy removal and installation
A good design is often quick to repair. "Providing a modular design enables sub-assemblies already assembled or aligned to be swapped out to minimize machine downtime for repair," says Optimation's Beam. "To help achieve this, have a design review with the customer, including maintenance personnel, of the machine's 3D conceptual model prior to detailed design or fabrication for the feedback
and acceptance."
AI on the Horizon
Artificial intelligence (AI) has been the technology of the future for quite some time and continues to be just out of reach for many applications, including machine maintenance. "Artificial intelligence (AI) is a very cutting-edge technology, especially for an industry that is slow to adapt new technologies," says Putnam-Pite of Owens Design in the cover story. "At this time, I would image that most of the AI initiatives for machine tools will take place on the production-floor side of the world. We have not had customers asking us to implement AI platforms to improve machine maintenance and reliability. I would also think, given the expense of these implementations, that the cost would be prohibitive except for a few key industries."
But when implemented correctly, AI can help unearth value from data. "Perfection of AI reliability scenarios requires machinery in a wide variety of applications, so as not to make incorrect assumptions," says Matrix's Krummey in the cover story. "Our machinery has a very large installed operating base across every part of the packaging industry. This application experience has resulted in machinery that can perform at optimum levels with minimum cost and complication."
The answer to the AI implementation issues may be focusing on one area, such as predictive maintenance. "The systems and tools available now allow predictive maintenance programs to substantially reduce downtime," says Justin Olivier, product manager, Mobility, at Pepperl+Fuchs in the cover story. "However, it is important to make sure that workers in the field are equipped with tools that allow them to be connected to those Industry 4.0 systems. Not only does this allow them to monitor systems in real time, but it also makes sure that any maintenance performed is accurately recorded and helps to close the loop so that all parts of the system can work together for peak efficiency. Other related technologies, such as augmented reality, can also help to simplify and shorten training time for new employees."
Click here to read more issues of Automation Notebook.
Figure 1: (courtesy of Fori Automation) Fori Automations customers achieve long machine life by following the maintenance practices imparted by Fori during the commissioning, startup and training phases.
Figure 2: (courtesy of Fori Automation) Maintenance information such as cycle counts, run time and maintenance schedules can be made available to ensure preventive maintenance is completed on schedule.
Figure 3: (courtesy of Fanuc) Typical items on a robot requiring maintenance include cable, sensors, mechanical drive components and electronic hardware. Figure 4: (courtesy of Maverick Technologies) CapEx and OpEx costs must be balanced to achieve the lowest total cost of ownership.