InterConnecting Automation, an AutomationDirect system integrator, helps in-house staff to upgrade an aging and highly manual control system into a modern and easy-to-configure design.
Todd Timpa, assistant general manager at CTC Crushing, wrote an article for the October 2019 issue of Control titled Modern Controls, System Integrator Automate Rock Crushing. Here's a summary, click on the link above for the full text.
Simply put, CTC Crushing turns big rocks into small ones. As the leading supplier of aggregate and sand in the Las Vegas area, CTC recognized the need to upgrade its crushing plants to better support custom products. To modernize operations, speed product changeovers, and simplify controls, CTC partnered with InterConnecting Automation, an AutomationDirect system integrator, to perform the upgrades.
Turning Rocks into Gravel and Sand
At the gravel pit, native virgin material is surface mined. Over recent years, the industry has transitioned to also process recycled material like concrete. CTC operates both types of plants. Equipment crushes the material to a specific size, washes it, and stockpiles it.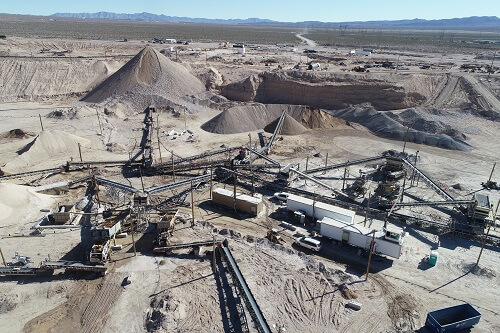 The surface mine at the top of the photo feeds CTC Crushing's dry processes. The wet process at the bottom left of the photo feeds washed final product to the bulk storage piles (not shown).
[hozbreak]
The dry process vertical shaft impact crusher uses twin 400 hp motors to crush 1.5-inch rock to 1/8-inch minus sand that is fed to the wet plant.
Wet process auger screws wash the rocks or sand with water, which is recycled through a clarifier.
The dry process includes crushers, and the wet process augers material as it is washed with water. The finished product is transported by conveyors.
A Crushing Automation History
About 20 years ago, CTC implemented a motor control center (MCC) operated by a PLC using the DeviceNet industrial communications protocol, which was a relatively new technology at the time. The system ran well, when it worked.
The original control system was very difficult to troubleshoot but was used for many years. Eventually, it was running so poorly that about eight years ago, the plant moved away from automation and went back to more of a manual system.
Plant operations personnel knew the time had come to improve the system but were resistant to making it more complicated. They were familiar with AutomationDirect as an industrial component supplier, but not as a PLC supplier. Additional research convinced them that the Productivity2000 series controllers would be an ideal fit. Through the AutomationDirect website, CTC identified InterConnecting Automation as a systems integrator meeting their needs.
Processing Details
For the first phase, the integrator recommended installing a Productivity2000 PLC just for the wet process, controlling about 20 motors. The design had over 100 I/O, EtherNet/IP communications to a variable frequency drive (VFD), and Modbus TCP/IP communications to 10 weigh scales. This was a proof-of-concept not only for the automation, but also to confirm CTC could perform the installation in-house.
The wet process was tested for four months, without any failure or equipment downtime, prompting the team to move ahead with their plans.
A second Productivity2000 PLC was specified for the dry side, controlling almost 70 motors ranging from 5 HP to 400 HP. The installation and operation went just as smoothly as for the first phase.
Rock Solid Control
The PLCs control the system from beginning to end to bring in material, crush it, transport it, monitor motor amps, and indicate conveyor weights.
With two PLCs controlling close to 100 motors in the plant with no problems, CTC is now moving ahead to add a third PLC to automate System 3, the clarifier portion of the plant. When the final phase is complete, the entire plant will be controlled by three Productivity2000 PLC systems purchased from AutomationDirect, programmed by InterConnecting Automation and installed and wired by CTC Crushing.
Operators can reconfigure interlocks and functionality according to their operating needs using an AutomationDirect C-more HMI.
The installed C-more HMIs can be accessed remotely using tablets or from PC-based browsers. A cloud-hosted AutomationDirect StrideLinx Secure hosted VPN solution lets the team access the automation system and the HMIs from anywhere.
The Rock-Bottom Line
Cost savings, flexibility, and simplicity led CTC to choose AutomationDirect and InterConnecting Automation. CTC was able to self-perform the installation, which saved money and helped plant personnel become very familiar with the system. With this upgrade, CTC can now reconfigure their operations to meet production needs in minutes through an HMI, with no rewiring or reprogramming needed as with previous control systems.