Product Snapshots – Issue 23, 2012
We have added several exciting products since our last edition of the Automation Notebook. Here are some highlights about some of those new products including: Jefferson Electric Buck-Boost Transformers, Stainless Steel Proximity Sensors, Metal Guard Foot Switches, Pneumatic Solenoid Valve Cables and Connectors, Bryant Industrial Grade Duplex Receptacles and Watertight Wiring Devices and Accessories, Field Wireable Connectors and T-couplers available, Air Pilot and Manual Control Valves, Multi-Function Digital Timer/Counter/Tachometers, Productivity3000 High-Speed Counter Input and Pulse Output Modules, Stainless Steel and Air Differential Pressure Transmitters, WERMA audible and visual signal devices, Bryant cord grips.
Jefferson Electric Buck-Boost Transformers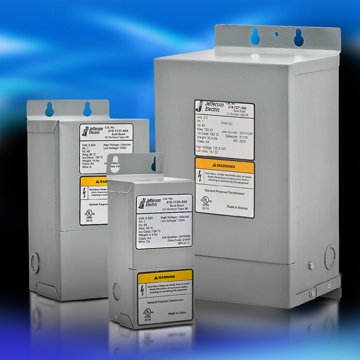 Buck-boost transformers from Jefferson Electric are designed to maximize the performance and life of electrical equipment, such as air conditioners, heating elements, 277-volt lighting systems, and in motors applications. Also called an isolation transformer, typical use is to power loads with specific voltage requirements which differ from the available line voltage.
Jefferson Electric 60Hz single-phase buck-boost transformers, with 50VA to 2kVA ratings, are encapsulated with electrical-grade resin, featuring high-quality electrical steel cores. The NEMA 3R-rated enclosures are heat-cured with an ASA-61 gray powder coat finish and have slotted mounting holes for quick and easy mounting.
A buck-boost transformer can have two main applications. When connected as an auto-transformer, you can buck (lower) or boost (raise) available line voltage anywhere from five to 20 percent. When used as an isolation transformer, it can be used to step-down supply power to low voltage circuits at the nameplate rating listed.
Learn more at: www.automationdirect.com/buck-boost-transformers.
Stainless Steel Proximity Sensors
Our line of round bodied stainless steel inductive proximity sensors now includes 3-wire NPN output versions in 8, 12, 18 and 30mm models; also new are unshielded 3-wire 12, 18 and 30mm models. All models have a full 316L stainless steel barrel and sensing face that provides extreme durability in harsh environments, with standard quick-disconnect cable connections.
See the full proximity sensor line at: www.automationdirect.com/proximity
Metal Guard Foot Switches
Metal guard foot switches have been added to our line of product offerings. These switches, in single and double units, are designed with die-cast aluminum foot cover guards and heavy-duty ABS plastic bases and pedals.
Ideal for machines such as shearing and spinning machines, lathes, wrapping machines and riveting machines and presses, the foot switches are available in three operational formats: safety anti-trip, free moving and free moving maintained. The IP65 –rated foot switches feature two normally-open and two normally-closed contacts with snap action or slow action options available.
Learn more at: www.automationdirect.com/foot-switches
Pneumatic Solenoid Valve Cables and Connectors
The pneumatics product line now includes several high-quality connectors and cables designed for most popular pneumatic solenoid air valves and sensors.
Three-wire connector cables are available in five pin spacing formats (8mm to 18mm); a four-wire transmitter cable is also available in the 8mm format. Connector styles include DIN 43650 standard forms A, B and C; two DIN style industrial forms (B and C) are also offered. The 24V or 110V AC/DC models feature built-in surge suppression and yellow LED indicator and are rated for connecting with electronics. The 230V AC/DC models are rated for straight-wired products.
Select connectors are field-wireable; all connector styles are available with three and five-meter PVC jacketed cables. Because the connectors are not polarity sensitive, users follow solenoid, sensor, or other devices wiring diagrams for proper connection.
For more product details, visit: www.automationdirect.com/solenoid-valve-cables
Bryant Industrial Grade Duplex Receptacles and Watertight Wiring Devices and Accessories
The Bryant wiring devices line now includes extra-heavy-duty industrial grade duplex receptacles and watertight wiring devices.
Two-pole and three-pole watertight plugs and connectors have also been added. Recommended where moisture exists or casual submersion is possible, these devices are constructed with high-visibility yellow double-insulated thermoplastic elastomer housings. Individual neoprene bushings provide a watertight seal. Rugged PBT interiors provide excellent resistance to moisture and temperature. A tongue and groove plug-to-connector design provides optimum protection in wet and damp locations. The 15A and 20A connectors accept multiple cord diameters from #18/3 to #10/3; 30A models accept #8/4 cord.Bryant industrial grade duplex straight blade receptacles feature a full-face, wrap around design molded of high-impact chemical-resistant nylon. Available in 15A and 20A versions, the receptacles are designed with a one-piece copper alloy grounding system with integral solid brass grounding contacts. Eight wiring pockets provide convenient feed-through back wiring and clamp-type terminals with brass terminal screws, and accept up to #10 wire; easy-access break-off tabs support two-circuit wiring. Available in gray or corrosion-resistant high-visibility yellow nylon, receptacles also feature a circuit ID marking area for clear identification of circuits.
Weather protective accessories have also been added including NEMA 1 non-conductive, impact-resistant thermoplastic elastomer portable outlet boxes, dual-receptacle covers and blank box cover plates.
Learn more about the Bryant wiring devices at: www.automationdirect.com/watertight-wiring-devices
Field Wireable Connectors and T-couplers Available
Field-wireable M8 and M12 connectors and T-couplers (T-splitters) are ideal for making patch cables in custom lengths from existing cables or bulk wire. Connectors are available in axial (straight) or right angle configurations and three, four, or five-pole versions. T-couplers are available in four and five-pole versions and come in four models: three models split Male M12 to two Female M12 connectors and one model splits one Male M12 to two Female M8 connectors.
Learn more at: www.automationdirect.com/idc-connector
Air Pilot and Manual Control Valves
The NITRA® line of pneumatic products has been extended to include air pilot valves, foot pedal valves, and manual control valves.
The AVS-5 series now includes single and double-pilot directional control air pilot valves, offering spring return or center closed operation. All are body ported five-port (four-way) spool valves and are available in 1/8″ to ½" NPT port sizes with flow coefficients from 0.67 to 2.79.
NITRA CVS series directional control foot pedal valves are five-port (four-way) spool valves designed for non-electrical operator control applications. Available in momentary or latching operation models, foot pedal valves feature a ¼" NPT port with a flow coefficient of 0.80. The full line of NITRA air pilot valves can be seen at: www.automationdirect.com/air-pilot-valves
Manual valves in toggle-style hand lever, push-pull, and rotary-style hand lever models have also been added. Constructed with aluminum alloy bodies, available port sizes are 1/8″ to ½" NPT with flow coefficients from 0.78 to 5.29. Models are available in two or three-position detented styles. The new NITRA manual valves can be seen by visiting: www.automationdirect.com/manual-air-valves
Multi-Function Digital Timer/Counter/Tachometers
The new CTT series multi-function devices are easily configured for operation as a digital counter, timer, combination timer/counter, or tachometer. The units offer selectable counting speeds up to 10,000 cycles per second. Available in standard 1/16 DIN size, the series comes in 24 VDC and 100-240 VAC powered versions. Multiple transistor and relay output versions are available.
The devices feature double-line, six-digit, two-color LCD displays for counter, timer, or tachometer present values, setting values and menu parameters during setup. Parameters can be easily set using externally accessible DIP switches or the lockable keypad. Additional individual indicators are provided for inputs, outputs and functions.
CTT units are equipped with two outputs; Output 1 is a single-pole single-throw relay and NPN transistor that operate concurrently. Output 2 can be ordered as either a single-pole double-throw relay, or NPN transistorCTT Series devices accept voltage and non-voltage inputs from a wide variety of NPN, PNP, or dry contact sensors.
Learn more about CTT Series devices at: www.automationdirect.com/Counter-Timer-Tach.
Productivity3000 High-Speed Counter Input and Pulse Output Modules
The Productivity3000 programmable automation controller line includes three new modules.
The P3-HSO high-speed output module supports Pulse/ Direction, Up/Down and Quadrature pulse outputs on each of two independent output channels. It has both line driver and open drain outputs and features six general purpose high-speed inputs and four general purpose outputs. The module is fitted with six fault status LEDs, six input LEDs, and eight output status LEDs. Simple move, velocity move, and additional high-level instructions make it easy to implement application motion profiles.
The P3-HSI high-speed input module has both differential and single ended inputs. This module accepts Pulse/Direction and Quadrature signals on each of the two independent input channels. Equipped with four fault status LEDs, eight input LEDs, and four output status LEDs, it also provides four general purpose high-speed inputs and four general purpose 5-24 VDC 0.5 amp outputs.
The P3-16TD3P DC output module is a sinking/sourcing protected output module which provides 16 12-24 VDC sinking or sourcing outputs with four internally connected commons. LED indicators signify missing external 24 VDC, open load, over temperature, and over load current conditions.
See the full Productivity3000 line at www.automationdirect.com/productivity3000.
Stainless Steel and Air Differential Pressure Transmitters
The ProSense SPT25 pressure transmitter series is engineered to meet many industrial, commercial and OEM pressure measurement applications. Compatible with many different media sensing applications, the all stainless steel welded thin film sensing element provides very fast response time.
With a pressure sensing range from vacuum to 5,000 psi, transmitters are designed to resist vibration, shock and EMI/RFI while providing high accuracy over a wide compensated temperature range. Models feature a ¼-inch NPT male threaded process connection and are available with linear outputs of 4-20 mA or 0-10VDC and with electrical connections of either a DIN 175301-803C L-connector or a two-meter integral shielded cable.
The ProSense DPTA series differential air pressure transmitters are precision engineered for accurate low differential pressure measurement of air and non-condensing, non-corrosive gases. Transmitters are equipped with an ultra-thin single silicon crystal diaphragm capacitive sensor to provide inherent repeatability and stability. These transmitters are designed with brass barbed pressure ports, removable terminal blocks and a rugged ABS housing for DIN rail or panel mounting. The series is available in ranges from 0.1 inches to 25 inches water column to measure positive, negative, and bi-directional pressures, with the ability withstand 15 psi overpressure without damage or calibration shift.
For more information on ProSense pressure transmitters, visit: www.automationdirect.com/pressure-sensors.
WERMA Audible and Visual Signal Devices
WERMA audible buzzers and optical beacon lights are designed for use on control panels and enclosures.
Additional 22.5mm panel-mount continuous-tone (80 dB at one-meter) electrical buzzers feature LED indicators with either red or yellow lenses. The 150 Series buzzer is available in 24 VDC and 115 VAC models; the 450 Series buzzer with acknowledgement function requires 24 VDC and is silenced by simply pressing the front of the indicator.WERMA 22.5mm panel-mount electrical buzzers are available in 14 models and in 115V AC/DC and 24V AC/DC styles. Constructed of polycarbonate /ABS housing material, the electrical buzzers are designed to mount in a 22.5mm hole. Buzzers are available in continuous and pulse tone models with volume ranges of 80 to 100 decibels; certain models provide eight selectable tones and feature adjustable volume levels up to 100 decibels at one meter. Each buzzer is equipped with simple connector-plug connections.
LED and incandescent beacon lights have also been added and are available in red, green, yellow, clear and blue. Two-wire, high-intensity LED 29mm diameter beacons are available in panel-mount styles, or M20 threaded base versions for use with limit and cable-operated switches. Available in 24 VDC and 115 VAC styles.
WERMA 57/58 mm diameter beacon lights are available in permanent incandescent, LED and Xenon flashing models. Designed for use in 22.5 mm standard control panel holes, the beacons provide 360-degree visibility. Incandescent models require a maximum 48V while LED and Xenon flashing models require either 24 VDC or 115 VAC power. Designed with 6.3 mm x 0.8 mm spade connectors, the beacons are finger safe when used with insulated spades.
Also added are 75mm diameter beacon lights in blinking, rotating or permanent LED models, as well as flashing Xenon and permanent incandescent models. LED and Xenon styles are available in 24 V AC/DC and 115 VAC models while incandescent models require up to 250V (depending on bulb selection). Beacons feature high-impact polycarbonate lenses available in red, green, yellow, clear or blue. Incandescent bulbs are sold separately.
See the full line of WERMA audible buzzers and optical beacon lights and accessories at:
www.automationdirect.com/signal-devices.
Bryant Cord Grips
The Bryant wiring devices line now includes wire and cable grips, strain reliefs, support grips, and pull grips.
Bryant cord strain relief grips are used to connect cable enclosures and industrial equipment and prevent cable pullout at the point of termination. When used in conjunction with bus drop support grips and safety springs, the devices are an integral part of an overall cord support and strain relief system.
Deluxe strain relief grips, suitable for indoor and outdoor applications, are corrosion resistant and feature endless stainless steel wire mesh weave to provide easy installation and arc-of-bend control; grips are designed with aluminum fittings and oil-tight, water-tight and dust-tight neoprene bushings. Starting at $29, deluxe cord strain relief grips accommodate a cable diameter range of 0.187″ to 1.687″.
Dust-tight strain reliefs are designed for use in bus drop grip systems, motor connections, panel boards and internal wiring of machines. The dust-tight grippers are constructed of galvanized steel mesh, and are offered in models for use with cable diameters from 0.32″ to 1.70″.
Standard duty support grips, for indoor and outdoor use, are applied to vertical or horizontal runs of cable or service lines to support dead weight. Designed with strand equalizers to reinforce gripping strength and distribute loads equally, standard duty grips accommodate 0.54″ to 1.74″ cable diameter ranges.
Light duty bus drop support grips, for indoor use, support flexible cable where it connects electrical equipment to bus duct. The single variable weave grips are made of galvanized steel for additional holding power in abrasive environments and attach to 0.24″ to 1.25″ cable diameter ranges.
Galvanized steel low-tension pulling grips are ideal for use in utility work, industrial and commercial building service lines, and underground transmission line stringing. The single weave variable mesh provides uniform positive grip power while protecting lines from abrasion. The reusable grips are fitted with a flexible eye which easily attaches to pulling line snake or fish tape. Low-tension pulling grips are available for 0.25″ to 1.74″ cable diameters.
Learn more about the Bryant wiring cord grips at www.automationdirect.com/strain-relief-grips.