Product Snapshots – Issue 9, 2007
We have added several exciting products since our last edition of the Automation Notebook. Here are some highlights about some of those new products including: AboutPLCs.com, learn.automationdirect.com, C-more micro additions, and Fusible and Non-Fusible Disconnect Switches.
AboutPLCs.com Is All About PLCs
AutomationDirect's newest product-focused Web site features PLCs. AboutPLCs.com pulls together information on the specification, selection, configuration and application of PLCs. Find links to automation sites, training, forums, weblogs and more. AboutPLCs.com also provides in-depth information on AutomationDirect's DirectLOGIC PLCs. Read Spotlight Feature Stories to learn interesting ways PLCs are used in industrial control. Keep up to date with the latest news headlines in the world of manufacturing.
To see more, visitwww.aboutplcs.com.
Find Answers At learn.automationdirect.com
Learn.automationdirect.com is an online streaming tutorial site featuring video tutorials providing product information and training on a variety of industrial control topics. Watch informative 1 to 30 minute segments covering product categories including PLCs, operator interfaces, software, sensors, motor control, drives and motors, and more.
This new learning site is updated regularly, adding more videos covering more products and general information about industrial control. Each page of learn.automationdirect.com also has a link to our suggestions page where you can provide feedback and suggestions on information currently on the site. You can also provide input regarding any tutorial video you would like to see added.
Be sure to check out http://learn.automationdirect.com. Make the site a bookmark in your Favorites section on your Internet browser. We're sure you will return time and time again.
Allen-Bradley DF1 Protocols Added to C-more Micro
C-more Micro-Graphic operator interface panels now support Allen-Bradley DF1 protocols when used with the EA-MG-SP1 Communication option module. C-more Micro will now communicate with Allen-Bradley SLC5/03, 5/04, 5/05 and Micrologix 1000, 1200, and 1500 PLCs in half and full duplex. The new drivers also allow full duplex communication with Allen-Bradley's PLC5.
To learn more about C-more Micro, go to:
http://c-moremicro.automationdirect.com.
Fusible and Non-Fusible Disconnect Switches from AutomationDirect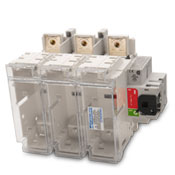 AutomationDirect offers 600 VAC/250 VDC heavy-duty fusible and non-fusible disconnects from Ferraz Shawmut. Meeting UL98 standards, the SIRCO and FUSERBLOC series are designed with the latest disconnect technology available, "make and break" power circuits under load, and are UL, CSA, CE and IEC rated. A wide array of handles is available to meet OSHA padlocking requirements, NEMA configurations, defeater options and NFPA 79 requirements. The SIRCO switches and accessories are available in 30-800 amp ratings. Available defeatable pistol handles automatically re-latch when the panel door is closed, eliminating the need for tools to reset the latch. FUSERBLOC fusible disconnects and accessories break up to 200 amps and use double break contacts per pole, isolating the fuse while the switch is in the OFF position. Used with class CC or J fuses, FUSERBLOC switches provide reliable circuit protection.
For more information, go to: www.automationdirect.com/disconnects.