AutomationDirect now offers the RHINO line of power supplies, which includes several new metal and plastic-housed switching supply models.
The new RHINO PSM series power supplies are industrial grade switching DC output supplies with a sturdy steel case to withstand harsh environments. Autoselect inputs for 115 VAC or 230 VAC and international agency approvals make the RHINO PSM series suitable for worldwide use. RHINO PSM power supplies are available in 12 or 24 VDC output, with adjustable output voltages, and feature low output ripple along with overload and overtemperature protection. The seven models offer power ratings from 78W to 600W, and up to 25A output current. Each power supply includes two diagnostic discrete outputs for monitoring low-output voltage levels, allowing for remote notification to a PLC, SCADA or Maintenance Management System. One output is a transistor device that can be directly connected to the logic input of an I/O device, such as a PLC, for remote monitoring and annunciation of low voltage levels. The other output is a relay output that can be connected to any dry-contact capable device and will open its contact when the output voltage drops. Additionally, each PSM unit can be configured for Remote ON/OFF activation by wiring the Remote ON/OFF terminal in series with a relay or I/O device and the Vout terminal. This allows any logic device, PLC or remote I/O node to activate or deactivate the power supply output power for easy system startup/shutdown or maintenance purposes. RHINO PSM power supplies also include multiple output terminals to facilitate wiring in parallel load configurations, dual status indicator LEDs, and a pluggable screw terminal block for quick installation and removal.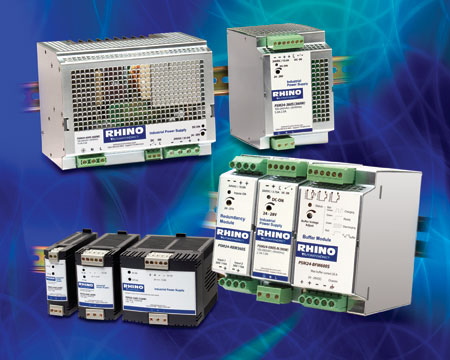 The PSM power supplies comply with the latest EMC immunity and emissions standards for industrial environments. There is also a model in this series that complies with NEC Class 2 safety requirements. The Mean Time Between Failure (MTBF) reliability is greater than 350,000 hours, in accordance with the IEC 61709 standard. Innovative add-on modules for the RHINO PSM line include a Redundancy Module for configuring a true redundant power system with power sharing, a Battery Controller Module suitable for creating a DC Uninterruptible Power Supply (UPS) system by charging and monitoring an external battery; and a Buffer Module for maintaining output voltages of a 24 VDC power supply after brownouts or voltage dips. The Redundancy Module can connect two RHINO PSM power supplies to provide fully redundant output power and includes an alarm output signal when one of the power supplies has failed or has been disconnected. The Redundancy Module inputs are hot swappable for uninterrupted maintenance and can be loaded up to 15A each. For configuring a DC UPS, the Battery Controller Module provides a battery management system for charging and monitoring a lead-acid battery. The Battery Controller module also has an option for connecting an external temperature sensor that adjusts the battery charging voltage automatically to avoid overcharging and increase battery life. The Buffer Module uses a capacitor bank to store energy and is therefore maintenance free. The hold-up time of the Buffer Module is typically 200ms at 25A, and up to 4 seconds at 1.2A. Accessories for panel mounting are also available for the PSM power supplies.
New RHINO PSP series power supplies are plastic-housed ultracompact switching supplies available in 5V, 12V and 24V adjustable models. There are 14 models available with power ratings of 20W to 120W and up to 8A output current. They are DIN rail or panel-mountable and feature universal 85-264 VAC or 83-375 VDC inputs, adjustable DC voltage outputs, power good signal and low output ripple along with short circuit, overvoltage and ov
Originally Published: Sept. 1, 2005