Some forms of communication are universal. In many countries, even though you might not speak the language, the signs for stop, go, and slow down are still understandable. The same goes for an emergency situation, we all know what a flashing red light means – danger, stop, or get away. Relaying critical messages is the mission of PATLITE as the company strives to be the "first messengers" who transmit information to everyone quickly and precisely.
In 1947, an enterprising businessman, Kanich Sasaki opened the Sasadenki Research Center in Abeno-ku, Osaka, Japan. It was here that the company's light and sound technology products were born. First with a DC micro-motor for audio instruments in 1955 and then later in 1965 with the first version of the revolving warning light, PATLITE pioneered the technology that today allows the company to develop and produce products that provide critical messages.
Although the company's initial products were focused on emergency vehicle lighting and public safety, PATLITE has now become the world's leading provider of LED status indicator lights, sound alarms, visual and audible communications network systems, and solutions that enhance the safety, security, and comfort of workplaces and communities.
PATLITE has a rich history of quality, service, and innovation. As a start-up organization after World War II, the Sasadenki Research Center focused on developing its micro motors for a variety of uses. These microscopic motors were made on a microchip which, at the time, helped revolutionize the electronics industry centered in Japan. After developing its micro motor technology, the Center continued under the leadership of Toshiko Sasaki as its representative director in 1963. Within a few years, the company had produced its first version of the revolving warning light called PATLITE. In the 1970s, these lights were further developed into diffusing warning lights for patrol cars. Then, in the 1980s, the company took off with several new products: the continuous signal light, voice synthesizer for warning audio instruments, and the electronic siren amplifier for emergency vehicles.
In 1989, the PATLITE corporation was established in the United States which was followed by the company's release of its first LED display board. In 1994, the company changed its corporate name to PATLITE which again was followed by a period of innovation and growth. At that time the first construction phase of the company's Sanda factory was finished in Japan, a new office was opened in Singapore, and then an office and factory in Indonesia. PATLITE's growth continued into the 2000s, with the development of the multicolor LED display board and more locations established in China, Germany, Korea, Taiwan, and Thailand
To this day, PATLITE still maintains its commitment to serving its customers. The organization and its people are always searching for new ways to make the world better and safer. A philosophy that starts from the top with the current PATLITE CEO Hisato Takano. In a corporate message, Takano stated: "Our intention is to grow as an enterprise into a global business that can be relied upon by society and trusted by customers of the world, as we are in Japan, as a leading company in the industry by capitalizing on the strengths of our activities in our country. You can count on our growth. We ask for your continuous support and encouragement."
Making the world safe and green
In addition to its customer commitment, PATLITE also maintains a commitment to sound environmental policies. Not only does the company provide products to its customers that are energy efficient such as LED lighting, PATLITE goes further with its own energy-saving efforts, including: a reduction in industrial waste, the disposal of harmful substances from its products, and conforming to environmental regulations. In 2001, the company earned the ISO 14001 certification and is proactive in finding ways to reduce any negative environmental impact in its Japanese and Indonesian factories.
Ken Kosaka, PATLITE's USA Managing Director explains: "Although we're in business to provide critical information quickly to increase safety, we also believe that good environmental practices are important
to make the world safe. We look for new technology and enhancements to help our facilities be not only compliant with regulations but also additional opportunities that complement our commitment to making the world clean and safe for all to live."
Incorporating the PATLITE philosophy into a successful global enterprise
"PATLITE products are developed to bring safety, security, and comfort to every part of the world by using light and sound," said Kosaka. "The company takes its mission seriously. It's at the core of our company's values and philosophy — to serve the world by increasing its safety."
The company does this by seeking input from customers and continuously improving quality. For example, PATLITE's research and development facility is always seeking to establish new products and improvements based on customers' needs by focusing on products that are easy to use, intelligent, and comfortable. The research and development department has a state-of-the art testing facility on site. The testing facility even has its own motto: "try, verify, and evaluate" that ties back to the company's never-ending quest to provide superior products. The research and development facility is located next to the factory in Japan for an easy transition of new technology onto the factor floor allowing PATLITE to update its products quickly while still maintaining superior quality.
One of the company's latest products is a new series of signal towers. These innovative towers were developed and tested in Japan based on customers' needs. The new stackable tower allows customers to assemble the colored lights in any combination, is brighter and more energy efficient using LED lighting, provides a 360 (degree) sound, and is durable enough to withstand harsh environments including water runoff and dust. "We like to say these new products have increased 'ibility,'" explained Kosaka. "Their simplicity is part of the easy design, their visibility is twice as bright, their audibility is at 90 decibels, and their durability is outstanding."
PATLITE's commitment to quality control, productivity, and safety has allowed the company to grow with 18,000 products and more than 900 employees across the globe, including its headquarters in Japan and wholly owned sales subsidiaries in the United States, Germany, Singapore, Korea, Thailand, Taiwan, and China. In addition to safety products for the industrial control industry, the company also develops products and services for commercial, municipal, and governmental sectors.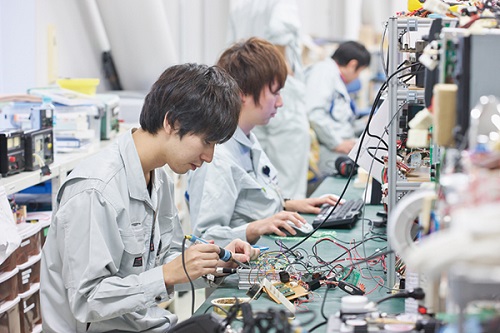 This new series of signal towers is just one example of PATLITE listening to its customers and then turning their requests into reality. Each product is designed with the customer in mind as well as the greater good of contributing to the company's mission of making the world a little safer – and being the first messengers with critical information.
To view PATLITE's website, click here.
To read more supplier profiles, click here.