Innovation and responsibility are the two guiding principles of Wenglor, a German manufacturer of sensors. For three decades, Wenglor has embraced these two principles not only as a company slogan but also as the way they conduct business each and every day.
 Innovation
As an innovator, Wenglor's Founder and CEO Dieter Baur has a passion for setting ideas into motion. In 1983, he saw a need for a certain type of optoelectronic sensor. Baur's background as an electrical engineer helped him identify this deficiency
and solve it with a new product. With the help of a few local workers, Baur assembled his first sensors in the attic of his home.
Baur's first big order came from a product nicknamed the "pee switch." This product was used as a sanitary switch in toilets. This product generated a regular income for the first time and opened a new business segment for him. Today, nearly every urinal has a sensor like the "pee switch" that activates the flushing mechanism. Baur was the first to use this technology.
As Baur saw increased demand for his products, he turned to a sales agency to help market his sensors. Baur partnered with  Friedrich Wenglorz and founded Wenglorz GmbH together in Essen, Germany. Four years later, Wenglorz dropped out of the company and after his departure, it was renamed Wenglor Sensoric GmbH. The name allowed Wenglor to have its own identity and better fit for the sensor market. From there the company grew in leaps in bounds until today it stands as an international leader in sensor technology.
After its initial success, Wenglor went on to create one of the first intelligent early warning systems by using photo electronic sensors to remind users to clean their lenses. Then, in 1988, the company created a major breakthrough that sealed its position as a worldwide innovator. By using an alignment of through-beam sensors, Wenglor introduced the world to the first red light sensor.  The most substantial advantage of the red-light technology is it allowed easier alignment since the light is visible to its users. Skeptical at first, the market for this red-light technology has since been adopted by nearly all sensor suppliers.
With the innovations also came challenges. A year after this technological advancement, a fire destroyed a large part of the company's warehouse. Not one to be deterred, Dieter Baur led Wenglor to a new location in Tettnang in the Oberhof region of Germany with 50 employees. Just five years later, in 1994, the company doubled the number of employees to 100. Today, the Tettnang location still serves as the company's headquarters now with three buildings housing 300 employees in the fields of production, administration, and management within more than 20,000 square meters of space. Close by, Wenglor has another facility that contains temperature, flow, and pressure sensor production. Near the city of Munich in Eching, 40 Wenglor employees develop and manufacture intelligent products, including 3D sensor technology and split-beam sensors. In Sibiu, Romania nearly 200 employees work in the company's second manufacturing location with production and in-house research and development situated there.
As the world entered a new Millennium, Wenglor continued to innovate. In the late 1990s, the K design was developed which is characterized by its miniature housing. Due to its small size, the K sensor can be integrated into a lot of small machines and applications where only a little space is available. As a result, it is used in many different industries, including handling, logistics, and packaging. To this day, reflex sensors with background suppression in a K housing account for wenglor's best-selling sensor.
In 2005, Wenglor created the first BV sensor in a compact housing utilizing smart camera technology.  A few years later, Wenglor introduced a new product line called InoxSens that is used for special hygiene requirements in the pharmaceutical and food and beverage industries. Despite a worldwide economic crisis, in 2009, the company took this time to focus on research and development and created the WinTec Sensor showcasing Wenglor interference-free technology. These sensors have scratch-resistant optics and the emitted light can be turned on and off.  They also reach a very high switching frequency and use laser class 1 which is safe for the human eye. The WinTec can be applied in nearly every industry and became one of the company's most successful sensors.
To further support Wenglor's place as an inventive pioneer, the company has been recognized by two highly regarded organizations. First, the WinTec Sensor was named  a "2011 top product" Hermes Award winner which, in Germany, is one of the most important and sought-after technology prizes. Second, Wenglor received a 2011 Axia Award from Deloitte, the world's largest management consulting firm. The Axia Award is a national competition that distinguishes outstanding medium-sized companies for their exemplary performance.
The tradition of innovation is the lifeblood of Wenglor. By continuing to invest in research and development, the company is constantly looking at what technologies will be needed in the future. Founder Dieter Baur has a clear vision and knows what it takes to stay ahead in this industry. "You will always need experience, readiness to assume risk, good and wide customer contacts, and a lot of innovative capacity," said Baur.
Responsibility
As with innovation, Wenglor embodies responsibility as part of its corporate culture. "We feel our responsibility in three areas," explained Dieter Baur. "Employees, the environment, and education."
Wenglor provides ongoing employee opportunities beginning with traineeships up to R&D and sales. This is part of its upwardly mobile corporate philosophy. Today, the entire Baur family is active in the company with Dieter's two sons, Fabian and Rafael, working as managing partners. However, all employees are included in the extended Baur family. "We believe that treating employees like family not only results in a satisfied team but that satisfaction translates into happy customers," said Fabian Baur. "In a family you talk on the phone to each other not a machine. That's why when a customer contacts us they hear a human voice on the other end and not a computer."
As with employees, Wenglor also takes great care of the environment. "We look for ways to make sure we're using our resources wisely," said Baur. For example, by using thermal insulation and geothermal energy for the buildings on the Tettnang campus, the company's CO2 emissions were reduced by more than 300 tons per year.
Wenglor's responsibility in education is shown by providing opportunities to students who may not otherwise be able to learn about technology. "We seek partnerships with schools, colleges, universities, and many other educational institutions," explained Fabian Baur. "The aim is to get together students and technology as soon as possible in order to arouse interest in these technologies." Each year Wenglor provides several students with an internship working at the company providing them with on-the-job career training. The company has also financed the equipment for a new electrical engineering laboratory for the Faculty of Engineering of the Lucian Blaga University in Sibiu, Romania.
"The potential for these students is furthering their education," said Baur. "We feel it's our corporate responsibility to show young people the chances and possibilities for their future in the area of sensor technologies."
One of those students today could tomorrow become another creative developer at Wenglor… continuing the tradition of innovation and responsibility. [hozbreak]
[two_columns ]
[/two_columns] [two_columns_last ]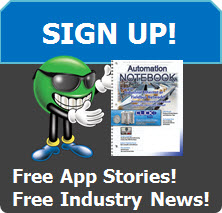 [/two_columns_last]