AutomationDirect's CLICK PLUS PLC, starting at just $89, is the next generation platform for basic control applications, building on reliable and familiar functionality, while adding advanced options like Wi-Fi and data logging.
AutomationDirect's CLICK PLUS PLC was announced as a Control Engineering 2022 Engineers' Choice Awards Finalist in the "Controls Systems: PLCs, PACs" category. Check out the link and cast your vote!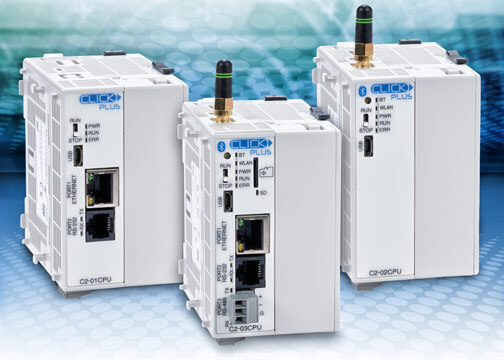 CLICK PLUS PLCs are compact and capable, with CPUs available in three versions—wired, wireless, and wired/wireless. Models are available with a built-in Ethernet and serial ports, supporting protocols like the IIoT-standard MQTT, Modbus TCP, Modbus RTU, and EtherNet/IP. Wi-Fi models simplify installation time and reduce cost because no network cabling is needed. The stackable micro modular form factor provides various expandable I/O options, making it possible to add up to 128 discrete or 48 analog points. One version offers up to 32GB of data logging to an external microSD card.
For over 12 years, the CLICK PLC series has enabled plant engineers, electrical technicians, machine builders, and other users of all types to easily create practical control systems, all with an exceptionally good price to performance ratio. The new CLICK PLUS PLCs carry on that tradition, and they add enhanced security, port management, and many other advanced capabilities. CPUs are programmed via a USB port using the same FREE software as the original CLICK PLCs. A robust instruction set and PID loop control are provided to handle a wide range of applications.
The Control Engineering 2022 Engineers' Choice Awards highlight automation, instrumentation, and control products selected by qualified subscribers. Please visit the Engineers' Choice Awards page to find out more and to follow the proper link to cast your vote! Voting closes on December 31, 2021, and winners will be announced on February 1, 2022.
Get more information on the innovative CLICK PLUS PLC!