Graphical Panel Meters from AutomationDirect
AutomationDirect has added Trumeter graphical panel meters to its line of electrical power products. These meters measure voltage, current or frequency and provide analog meter-style visual and accurate numeric readings.
User-selectable measurement options include 0-600 AC or DC voltage, current at 0-5A direct or 0-9,999A via transducer, and frequency from 2 to 400 Hz. The panel meter provides two independent alarm outputs and two fully scaled analog monitor outputs.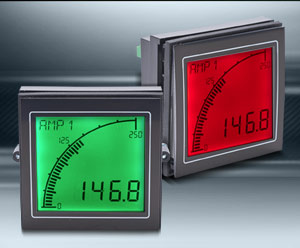 With a wide horizontal and vertical viewing angle, the 40-segment programmable bar graph display has a four-character custom message/alarm area, a large 4-digit measurement display area and a starburst display area for annunciators and alarm information.
The dynamic display backlight can be set for brightness and to flash or change color (red, green, white) at a specific measurement range. Two LCD options are available, positive LCD for bright conditions or negative LCD for dark environments.
Trumeter graphical panel meters from AutomationDirect start at $64.00.
Learn more by visiting: www.automationdirect.com/graphical-panel-meters
To read more press releases from AutomationDirect, click here.
About AutomationDirect:
In business since 1994, AutomationDirect is a distributor offering thousands of industrial automation products for electrical control systems, including PLCs, operator interfaces, AC drives, motors, stepper systems, sensors, motor controls, enclosures and more. Their prices are typically well below the list price of more traditional automation companies because of their business model and focus on efficiency and the majority of their products are stocked for fast shipping. Plus, get free two-day delivery on orders over $49; some limitations apply. For more information, contact them at 800-633-0405 or visit www.automationdirect.com.
Editorial Contact:              Tina Gable
Phone:                                678-455-1845
Email:                                tgable@automationdirect.com