In today's modern pneumatic systems, there are a variety of choices available to get the air preparation systems, valves and cylinders connected. Most designers use flexible pneumatic tubing or hose rather than rigid tubing, and many different types of both are available. Fittings offer many choices as well to meet the needs of a wide range of pneumatic system applications.
Pneumatic Tubing and Hose
Flexible tubing is the most common way to connect pneumatic valves to cylinders, actuators and vacuum generators in modern automated equipment, with hose a close second. With any type of tubing be careful to not confuse outside diameter (OD) with inside diameter (ID), and be aware that flexible and rigid tubing are two different types of materials.
Most tubing used in pneumatic systems is less than 1" OD with common pneumatic main supply circuits in the 1/4" to 1/2" tube OD range, and pneumatic control circuits in the 1/8" to 3/8" tube OD range. Pneumatic tubing is available in metric and English sizes, which of course shouldn't be mixed on the same machine.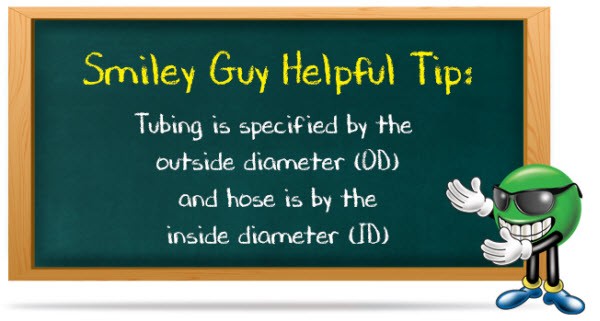 In automated equipment and machine shop applications, the outside diameter drives the selection and specification process, matching the tubing to the push lock or other fitting.
If more air flow is needed, larger diameter is the obvious choice, but be aware that the inside diameter of tubing is affected by the tube wall thickness, with thick tubing walls reducing ID and air flow.
Hose is sometimes manufactured by adding a nylon braid between the inner and outer layers of tubing and attaching a rigid and a swivel fitting. Whether the hose is rubber or lighter weight polyurethane or other materials, it's strong, flexible and kink resistant—and thus an easy way to connect shop air to blow guns or other pneumatic tools. Hoses are commonly available in 1/4", 3/8" and 1/2" diameters with national pipe thread (NPT) or quick disconnect fittings (QD). Check diameters carefully as hoses are often specified by inside diameter to ensure proper flow for the application.
.
Selecting the Right Tubing Material
There are a variety of materials used to make extruded plastic pneumatic tubing including:
Polyurethane
PVC
Nylon
Polyethylene
PTFE
Polyurethane tubing is strong and has excellent kink resistance compared to other material types. It has a working pressure of 150 psi or higher and is the most commonly used tubing material. It also has tight OD tolerance, and a wide range of push-to-connect fittings are available. A variety of tubing colors and diameters are offered to help identify pneumatic circuits, and UV stabilization is an option for outdoor use.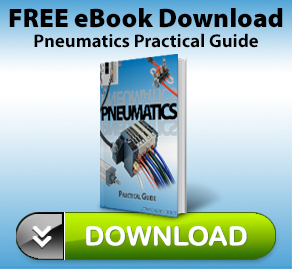 Polyurethane and PVC tubing are the most flexible of the materials above. Polyurethane tubing is very durable with outstanding memory, making it a good choice for coiled, portable or self-storing pneumatic hose applications. PVC is not as tough as polyurethane, but can be specified for food-grade applications, and is a good choice when high flexibility and low cost are required.
Nylon and polyethylene tubing use harder plastics and are thus less flexible, making them a good choice for air distribution and straight run piping applications. Notable specifications of nylon tubing is its higher working pressure capability up to 800 psi with a temperature range up to 200°F, and excellent chemical resistance.
PTFE tubing has several notable properties including high heat resistance, excellent chemical resistance, and good dielectric properties. PTFE tubing can handle temperatures up to 500°F, is chemically inert, and can be used in applications sensitive to static electricity.
Thread Standards
Pipe thread and tubing OD are two completely different things. A 1/4" tube fitting doesn't necessarily have a 1/4" threaded connection at the opposite end, so specify carefully. There are also several standard pipe threads including:
NPT (National Pipe Taper)
BSPT (British Std Pipe Taper)
BSPP (British Std Pipe Parallel)
NPT is the most commonly used in the U.S. and has a tapered thread. Thread standards should never be mixed on a machine, as a BSPT male thread fitting won't mate correctly with a NPT female thread fitting. Although they will screw together, the thread angle is different and thus won't create a proper seal.
NPT can be referenced multiple ways. MNPT, MPT and NPT(M) all mean the fitting has male threads and uses the NPT standard. Female thread is labeled in a similar fashion, but with an F instead of an M. NPT fittings require thread sealant when installed, such as Teflon tape, but only if not provided with sealant from the factory.
BSPT is sometimes called R-thread and is most commonly used in Europe, but is also sometimes used in the U.S. and Canada. BSPT fittings require thread sealant when installed, such as Teflon tape, but only if not provided with sealant from the factory.
BSPP, also called G-thread, is less common, and a straight thread, but sometimes needed to connect certain standardized components. BSPP threads don't require thread sealant since they have an O-ring for sealing.
Getting Fitted
Fittings for connection to tubing and hose come in a variety of configurations including barb fittings, compression fittings, plastic/brass push-to-connect fittings, all metal push-to-connect fittings such as plated brass or stainless steel, brass threaded fittings, and quick-disconnect air couplings which are mostly used with hose.
Barb fittings are a simple way to connect flexible tubing or hose. The tubing is simply pushed over a barb that is slightly larger than the inside diameter of the tubing. A hose clamp is often added to secure the tubing more tightly. While easy to use, barb fittings have a higher risk of leaking or of the tubing popping off.
Compression fittings use a small barrel-shaped piece called a ferrule that slips over the outside diameter of the tube and is then compressed between a nut and the other half of the fitting. While creating a very secure connection, removing the tubing later can be difficult and often the tubing is deformed to the point that a new tube must be used to reconnect the fitting.
With push-to-connect fittings, flexible tubing is easily connected by inserting the tubing end into the fitting. To release the tubing, the circular release ring is pressed and the tubing is pulled out. This has become one of the most popular fittings for machinery and automation assemblies.
Plastic/brass push-to-connect fittings typically use strong thermoplastic with stainless steel tube- gripping claws, and threaded components made of nickel-plated brass. These fittings provide an excellent solution for most applications. In harsher environments, more expensive all-metal push-to-connect stainless steel fittings are commonly used, and these fittings are also preferred in high temperature and wash-down applications.
Brass threaded fittings are a good choice for miscellaneous connections to many pneumatic devices, but typically don't connect to tubing or hoses. Quick-disconnect air couplings are great for changing tool or hose connections and come in several sizes and materials.
Special Fittings
Getting tubing connected between valves and cylinders often requires more than just a simple male connector or elbow. Several special purpose push-to-connect fittings are available to improve integration and operation of pneumatic systems. For example, flow control valves are often used on cylinders to control their speed, and they frequently require these special fittings.
Other useful and convenient fittings include mini shutoff valves, mini gauges, check valves and quick exhaust valves. These devices should be considered to control machine pneumatic functionality and to monitor air usage.
Specifying and installing fittings and tubing sometimes feels like a puzzle, and you will likely find during the assembly process that you missed some fittings. It's common to require multiple orders to get everything working as desired.
Click here to read more articles related to pneumatic tubing and fittings.