At AutomationDirect, we want to help you have the most powerful year of your career with PLCs and industrial automation. In order to do that, we are providing you with some of the best tools we can to increase your PLC and industrial automation knowledge. The options listed below will help you learn more about industrial controls so you can achieve greater success this year and every year.
1. Get FREE Online PLC Training with Interconnecting Automation
Doug Bell, founder of Interconnecting Automation, has been instructing our customers on PLC fundamentals since 1996. His expertise and training curriculum have helped thousands of automation professionals. Doug's online PLC training courses are now available to the public-at-large without any purchase necessary. Get FREE unlimited access to select online PLC training courses featuring topics such as: logic gates, basic switches, sinking and sourcing, scan time, I/O fundamentals, memory addressing and more. Also available are videos specifically covering AutomationDirect PLCs and include topics on how to use the controller's navigation, rung editor, logic instructions, internal control relays, data view window and many other functions.
What is provided: 
Courses on PLC fundamentals including logic circuits, sensor basics, and more
Courses on AutomationDirect PLC tools, instructions, and programming
How to Sign Up: 
Go here to register for this free training.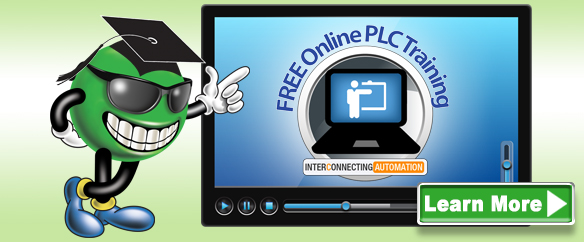 2. Get Certified, Onsite or Virtual Training with Interconnecting Automation
Besides the FREE online PLC training mention above, Doug Bell also offers affordable hands-on training and certified courses for those looking for continuing educating credits. Interconnecting Automation's website has numerous certified training courses where you are tested on your knowledge and are awarded a certificate upon completion. Doug also hosts in-person and virtual classes year round for hands-on training and he can come to you if needed. Doug will also provide customized training if that is what you prefer.   
What is provided:
More info:
How to Sign Up: 
Go here for more information on training options and to sign up.

3. www.PLC911.com
Are you stumped? Is there a specific control issue that has been causing you headaches for weeks? Or do you need private tutoring on certain PLC topics? Well now you can get the one-on-one guidance you need to tackle confusing or complex issues with Interconnecting Automation's new remote assistance program. Don't waste anymore time, let Doug and his team help you through it. Just go to www.PLC911.com and schedule a time for a private one-on-one session.    
What is Provided:
One-on-one advice, assistance, and mentoring from industry professionals to help you with specific issues or general questions.
How to Sign Up: 
Go here to register.
                         

4. Get PLC Application Stories, Product Info. & More in Our Newsletter
Our monthly newsletter isn't the typical fluffy marketing piece that some companies put out. We strive to ensure that there are helpful tips and advice in every newsletter, and this year we are renewing our dedication to making our newsletter a useful tool for you each and every month. Check out some of our past newsletters.
What is provided: 
Applications – Industry application articles and customer stories
Tech Tips – Frequently Asked Questions, discussions and technical information resources
Videos – How-to and What's-New videos
Product Views – New products, specs, prices
Online Features – Newest web features, helpful tips
Company News – The latest from AutomationDirect
The Lighter Side – Just for fun
How to Sign Up:
Just put your email address in the Box below. We promise it'll be short, sweet, and to the point!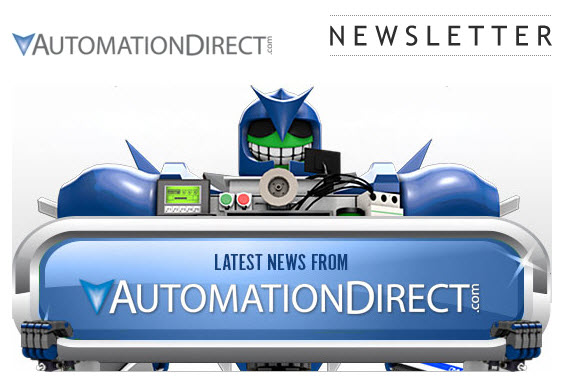 5. Learn from Our Collection of How-to Videos
The AutomationDirect video site takes all of the amazing video content that we have and puts it into an easy to use format so that you can quickly and easily get what you need. We have seamlessly integrated our How-to Videos, In-Depth Tutorial Videos and Product Overview Videos into our e-com store, so that you can search for videos the same way you search for products. We hope that our collection of useful videos will help you work and learn faster so that you can focus on what really matters.
What is provided:
We have a large collection of videos that highlight our products and demonstrate how they are used: Overviews Videos, How-To Videos, In-Depth Product Tutorials
Plus we are always adding new videos, so bookmark the homepage and visit often!
How to Sign Up: 
No sign up needed! Just visit www.automationdirect.com/videos/home
6. Keep Up with Industry News with Automation NOTEBOOK
Automation NOTEBOOK focuses on industry news as well as company news, new product information, and application stories. Guest columnists include AutomationDirect technology providers, as well as other respected names in the automation industry. Check out some of our past issues here.
What is provided:
Think of the Automation NOTEBOOK as a quarterly guide to practical products, technologies and applications for the Industrial Automation industry.
How to Sign Up: 
Click Here To Subscribe to Automation NOTEBOOK
7. Harness the Power of Community
Since its introduction in 1999 as part of the primary Web site, the AutomationDirect Customer Forum has emerged as a valuable resource for automation professionals to explore application ideas, share knowledge, and solve problems.
What is provided:
There have been over 9,000 threads containing over 45,000 posts on topics ranging from PLC programming to motion integration.
How to Sign Up:
Check out the community at community.automationdirect.com to register and start participating today!
We hope that you will take full advantage of all of these resources. We sincerely want to help provide you easy access to some of the best knowledge in the automation industry.