Product Snapshots – Issue 10, 2008
We have added several exciting products since our last edition of the Automation Notebook. Here are some highlights about some of those new products including: Industrial Ethernet Switches, General purpose electrical wire, Fuse Holders now available in single packs, New generation of Industrial LCD Monitors, Expanded PLC protocol support for C-more® Micro-graphic panels, Disconnect enclosures, New analog modules for DL05/06 PLCs, Flexible electrical tubing and connectors for panel and facility wiring, New temperature controllers, Dependable control transformers, New foot switches and LED pushbuttons.
Industrial Ethernet Switches Are IEEE 802.3 Compliant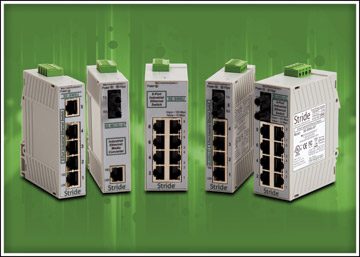 AutomationDirect has launched its new line of Stride™ industrial-grade unmanaged Ethernet switches and media converters. Built for industrial environments, the new Ethernet switches are designed specifically for PLC, HMI and drive users. Now available are 5-port and 8-port Ethernet switches, 4-port and 8-port Ethernet switches with one 100BaseF fiber port, and an Ethernet to Fiber Media Converter.
Once connected to the network, Stride Ethernet switches are true plug-and-play devices which start operating at power up. They automatically determine and remember devices connected to each port and only route messages through the appropriate ports, increasing speed and bandwidth. Even under heavy I/O and data exchange, Stride switches and the Ethernet control network maintain more consistent cycle times.
The Stride switches support 10BaseT (10 Mbps) and 100BaseT (100 Mbps) on RJ45 ports. Each port independently auto-senses speed and duplex, interfacing with legacy (10 Mbps) or fast (100 Mbps) Ethernet devices. All units feature redundant power inputs with industrial surge and spike protection.
The two-port Media Converter converts 10/100BaseTX Ethernet through an RJ45 connection to 100BaseFX Ethernet over an ST multimode fiber connection for links up to 4km. Fiber optic cabling greatly increases network distance and enhances reliability, saving time spent tracking communications problems caused by electrical interference.
Stride industrial Ethernet switches and media converters are DIN-rail mountable and are UL, CSA, and CE certified, as well as rated Class 2, Div.2 for hazardous locations.
Learn more about Stride Ethernet Switches and Media Converters at: www.automationdirect.com/ethernet

General Purpose Electrical Wire Now Available
AutomationDirect announces the addition of building/hookup wire to its product offerings. Intended for general purpose applications, THHN building wire is 19-strand 600V uncoated copper wire available in 4-14 gauge sizes, making it ideal for new construction or rewiring 600V applications; THHN can be used in wet or dry locations.
MTW-type wire is available in 19 and 26-strand 600V bare, annealed copper in 10-16 gauge sizes. MTW-type wire is primarily used in control cabinets, machine tool applications, and appliance wiring applications.
Both THHN and MTW-type wire are UL, cUL, CSA, and NEMA rated.
TFFN-type wire is available in 16 gauge, 26-strand, 600V, uncoated copper and is primarily used as fixture wire in dry locations. TFFN-type wire is UL approved.
To view the entire line of wire, visit: www.automationdirect.com/wire
Fuse Holders Now Available In Single Packs
AutomationDirect now offers Edison fuse holders in single packs. The CHM and CHCC models feature multiple-pole configurations, finger-safe protection and optional "open-fuse" indication. Class CC fuse holders are UL listed, CSA certified and CE compliant, while the Midget models are UL recognized, CSA certified, CE compliant, and IEC approved.
Learn more at: www.automationdirect.com/fuses
New Generation of Industrial LCD Monitors
AutomationDirect's ATLAS™ industrial grade 15", 17", and 19" LCD color monitors are heavy duty TFT flat panel monitors offering superb quality with non-touch and analog resistive touch screen models. All models are equipped with 100-240 VAC input power supplies and NEMA 4/4X/12 panel-mountable front bezels. Less than 2.75" panel mounted depth, heavy-duty steel chassis and powder-coated machined aluminum bezels make ATLAS™ ideal for factory automation applications. The full line is UL and cUL listed, European CE and RoHS compliant, and backed by a two-year warranty.
Learn more at: www.automationdirect.com/monitors
Expanded PLC Protocol Support for C-more® Micro-Graphic Panels
AutomationDirect's C-more Micro-Graphic panels now support five additional PLC protocols. In addition to supporting all DirectLOGIC™ PLCs and Allen-Bradley DF1 protocols, new communication drivers have been added to support GE Fanuc SNPX (90/30 and 90/70), Mitsubishi Melsec FX, Omron Host Link (C200 Adaptor; C500), Omron FINS Serial (CJ1/CS1) and Entivity's Think & Do Modbus (PLC tag name support).
Updated software is available for download from: www.C-MoreMicro.com
Disconnect Enclosures House Many Manufacturers' Disconnects
AutomationDirect now offers steel and stainless steel flanged enclosures for mounting disconnects. These enclosures are designed to house disconnects from manufacturers including Allen-Bradley, ABB Controls, Cutler-Hammer/ Westinghouse, General Electric, I-T-E and Square D, as well as the Ferraz-Shawmut line sold by AutomationDirect. The NEMA rated cabinets range in size from 20"x21"x8" wall-mountable to 84"x197"x18" heavy duty free-standing units.
Visit: www.automationdirect.com/disconnectenclosure
New Analog Modules For DL05/06 PLCs
AutomationDirect has extended its line of DirectLOGIC option modules to include 16-bit high-resolution analog modules for the DL05 and DL06 PLCs. Eight-channel current or voltage input modules and four or eight-channel output modules are available.
Learn more at: www.automationdirect.com/plcs
Flexible Electrical Tubing and Connectors for Panel and Facility Wiring
AutomationDirect now offers I-Flex flexible liquid-tight PVC tubing and connectors, manufactured by Iboco. The new tubing provides electrical wire protection outside the control cabinet and is suitable for indoor and outdoor applications.
I-Flex flexible liquid-tight PVC tubing and straight connectors are available in 3/8″ to 2″ ID sizes and 90-degree connectors are available up to 1-1/4″ ID sizes.
Visit:www.automationdirect.com/liquid-tight-tubing
New Temperature Controllers
AutomationDirect has added the SOLO™ process/temperature controller line to its list of products. With 22 models, these controllers are powerful process tools that offer flexibility and simplicity. Available in four standard DIN sizes (1/4, 1/8, 1/16, and 1/32), units are equipped with dual four-digit, seven-segment displays, useful for process variable and setpoint display. Each model offers dual output control, making it ideal for heating and cooling processes. Output configurations are available in various combinations of mechanical relays, pulse outputs and voltage or current outputs. The built-in auto-tune function with PID control feature allows for fast and easy startups. Flexible control modes include PID, Ramp/Soak, ON/OFF and Manual operation. Universal inputs are standard on all controllers, including thermocouple, RTD, milliamp (mA), millivolt (mV) and DC voltage. Select models are equipped with three available alarm groups.
All units offer RS-485 serial communications, allowing use of free software (downloadable from www.automationdirect.com) to configure and monitor up to eight SOLO controllers using Modbus RTU or ASCII protocols. SOLO process temperature controllers can also be
configured manually with the user-friendly keypad on each unit.
Visit:www.automationdirect.com/processcontrollers
Dependable Control Transformers
AutomationDirect has revamped and expanded its line of Hammond control transformers. The superior quality and design of the HPS Imperator series transformers make them ideal for high inrush applications requiring reliable output voltage stability. These transformers are 50/60 Hz, 600V class, machine tool rated with ratings from 50 VA up to 1000 VA. They are UL listed, CE marked and RoHS compliant. Finger safe terminal covers and primary side fuse kits are available.
To see the full line, visit: www.automationdirect.com/powerandaccessories
New Foot Switches and LED Pushbuttons
AutomationDirect has added foot switches to its line of product offerings. These switches, in single and double units, are designed for machines such as shearing and spinning machines, lathes, wrapping machines and riveting machines and presses. Foot switches are available in two operational formats: free movement and foot switch locked in neutral position. AutomationDirect has also extended its line of 22mm metal pushbuttons to include 24V and 120V LED illuminated pushbuttons, selector switches, and pilot lights. Replacement LED bulbs are also available in convenient two-packs.
To see the selection of foot switches and pushbuttons, visit: www.automationdirect.com/pushbuttons