We have added several exciting products since our last edition of the Automation Notebook. Here are some highlights about some of those new products including: Sensors for food and beverage industry, Standard CPUs added to CLICK PLC line, C-more Micro 4-inch TFT Touch Panel, NITRA tubing and hose, safety light curtains and limit switches, Class T fuses, Compact Pneumatic Air Cylinders, Stellar full-featured soft starters
Sensors for Food and Beverage Industry
A new line of food and beverage sensor products includes AC and DC proximity and photoelectric sensors and quick-disconnect sensor cables. Compliant with the IP69K standard, the sensors withstand washdown conditions up to 212°F and are constructed of FDA certified materials.
The PFM 12mm and PFK 18mm proximity series are sensors with shielded or unshielded stainless steel housings and M12 quick-disconnect plug with gold-plated pins. Providing complete overload protection, each series has 10 models available. The PFM series has a standard sensing distance of up to four millimeters and extended distance of up to eight millimeters. The PFK series has a standard sensing distance of up to eight millimeters and extended distance of up to 12mm. Models are available in a choice of 10-30 VDC PNP or NPN transistor outputs and normally-open or complementary output configurations.
The PFT 30mm series of proximity sensors are available in four models with sensing ranges up to 22mm. Models are available with shielded or unshielded housings and normally-open outputs.
The VFK 18mm and VFT 30mm series proximity sensors are available with shielded or unshielded stainless steel housings and half-inch micro AC quick-disconnect plugs with gold-plated pins. With complete overload protection, each series provides normally-open 20 to 140 VAC outputs.
Magnetic proximity sensors are available in 12 mm and 18 mm diameters. The shielded 10-30 VDC sensors have a sensing range of up to 70mm and a normally-open output.
Two series of 18mm food and beverage photoelectric sensors have also been added. The FF series photoelectric sensors are available in 30 models and four styles: diffuse, polarized reflective, through-beam, and retro-reflective (for transparent objects). Sensing distances range from 100mm to 20 meters. The FFRS series diffuse photoelectric sensors with background suppression are available with adjustable maximum reading distances – 30 to 130mm and 60 to 100mm for shiny objects. Sensors are equipped with LED status indicators; yellow indicates output while green indicates teaching function.
IP69K-rated cables are also available. Industry standard axial and right-angle M12 or half-inch micro connectors with open leads are available in five and 10-meter lengths. M12 screw-lock patch cables are also available in axial and right-angle models and 0.3m to five-meter cable lengths.
See the full line of food and beverage sensor products at: www.automationdirect.com/food-beverage-sensors

Standard CPUs Added to CLICK PLC Line
The CLICK family of micro brick PLCs now includes standard CPU units. The new units feature eight discrete inputs and six discrete outputs, available in four combinations of built-in I/O types. In addition to two RS-232 RJ12 communication ports, the standard CPU units are equipped with one RS-485 communication port and feature real-time clock and battery backup for the internal SRAM. Sold separately, the battery allows data to be stored for up to five years.
CLICK's user-friendly programming software is downloadable for free at www.automationdirect.com, providing the tools, layout, and interactivity needed for quick and intuitive program development. In addition, an online help file provides information to help users get acquainted with the software quickly.
To learn more about the new Standard CLICK CPU units, visit www.automationdirect.com/click-plc or call 800-633-0405.
C-more Micro 4-inch TFT Touch Panel
The C-more Micro-Graphic family of operator interfaces now offers a 4-inch TFT color touch screen HMI panel. The panel features a 320 x 240 dot display; 32,768 colors provide clear and colorful graphics for vibrant and intuitive screens. The free programming software offers the choice of using built-in objects or importing custom graphics. The user can create and save custom objects and graphics to software libraries for fast and easy access from multiple projects. The 4-inch touch panel is equipped with a standard Type B USB programming port, a serial communications port which supports the most popular PLC drivers, and five durable function keys with LED indicators. The unit offers 3.2 kB memory, LED backlight, multistate bitmap support and Windows font support. C-more Micro's 320 x 240 screen allows either portrait or landscape installation when space is a concern.
Learn more at www.automationdirect.com/C-more-micro
NITRA Line Expands Tubing and Hose Offering
New tubing and hose options have been added to the NITRA line of pneumatic components, including bonded straight and coiled styles.
Available in 50-foot lengths, NITRA bonded polyurethane tubing is made by a continuous bonding process, resulting in a strong, organized, color-coded package with flexibility and kink resistance. The shore A 98 hardness rating provides tight outside diameter tolerance, making it ideal for use with NITRA push-to-connect fittings. Available in 5/32 to ½-inch and 4mm to 12mm sizes, bonded straight tubing.
NITRA polyurethane coiled tubing has also been added. Coiled tubing is available in single, double, and triple bonded configurations with double and triple coils in contrasting colors. Available in three working lengths, and in sizes ranging from 5/32-inch to 3/8-inch and 4mm to 10mm, prices start at $4.50.
The addition of pneumatic air hoses includes reinforced polyurethane straight, as well as coiled and reinforced coiled styles. Available in quarter-inch and 3/8-inch sizes, the hoses are fitted with one rigid and one swivel fitting, based on hose inside diameter.
Reinforced polyurethane hose comes in 25 and 50 foot packages. With a shore A 85 hardness rating, the hose is strong, flexible and kink resistant.
NITRA coiled and reinforced coiled hoses are available in eight, 12 and 16-foot working lengths. Coiled hose has a shore A 98 hardness rating while the reinforced coiled hose has a shore A 85 hardness rating.
See the full line of NITRA pneumatic tubing and hoses at: www.automationdirect.com/pneumatic-tubing-hoses
New Safety Light Curtains and Limit Switches
Machine safety devices for use in industrial applications are now available. Two series of safety light curtains (active optoelectronic protective devices) are designed for human protection and product/machine safety where risks cannot be eliminated by machine design and the process might require frequent and open access during operation.
The YBB-14 series has a 14mm sensing resolution for finger-size protection and an operating distance of up to 3.5 meters; protective heights range from 142 mm to 1,045 mm. The YBB-30 light curtains series has a 30 mm sensing resolution for hand protection and an operating distance of up to 12 meters; protective heights range from 279 mm to 1,827 mm.
All safety light curtains have Type 4 and Cat 4 PL e safety ratings and are IP65 rated. Mounting brackets are included with each unit and additional mounting accessories and protective columns are available.
AutomationDirect has also added a line of machine guarding safety switches to detect unsafe conditions and isolate power. Normally-closed contacts are used for a positive break and redundant normally-closed contact and normally-open feedback outputs are available. The safety switches cannot be easily defeated and all units have CE, UL and CSA approvals. Four bases are available: 30mm plastic, 50mm zinc alloy, 40mm aluminum and 60mm aluminum. Four types of interlocks are available for common safety applications including tongue (key), shaft hinge, lever hinge interlocks and pull cord actuators with reset for emergency stop or without reset for simple stop.
See the full line of safety products at: www.automationdirect.com/safety
Class T Fuses Available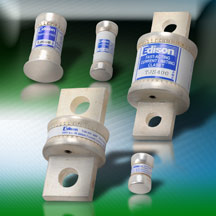 Two series of Class T fuses have been added to the line of circuit protection products. The TJN series 300 VAC and TJS series 600 VAC fuses are extremely fast-acting fuses in a compact, space-saving size, making them ideal for use as the main fuse protection for panel boards, load centers, meter stacks, and AC drives. Available in one to 600 Amp sizes, the fuses are current limiting and are designed with no intentional time delay to open quickly on overload. Screw and box lug-type fuses blocks for Class T fuses have also been added.
To see the full line of Class T fuses and fuse blocks, visit www.automationdirect.com/fuses
Compact Pneumatic Air Cylinders
The NITRA™ pneumatic product line now includes a series of compact stainless steel, round body cylinders. The new C-series cylinders feature type 304 stainless steel bodies with anodized aluminum alloy heads. The type 303 stainless piston rod is equipped with Buna "N" o-ring rod seals and sintered bronze rod bushings. The double-acting cylinders are available in 9/16-inch to three-inch bore sizes and stroke lengths from 0.25 inch to four inches. Optional clevis brackets and rod eyes are also available.
See the full line of NITRA compact pneumatic air cylinders at: www.automationdirect.com/pneumatic-cylinders-compact
Stellar Full-Featured Soft Starters
The Stellar line of soft starters now includes the SR44 series of solid-state soft starters to control three-phase AC induction motors. The fully digital SR44 soft starters use thyristors in all three motor phases to provide controlled reduced voltage motor control for smooth acceleration/deceleration and reduced mechanical shock and starting stress.
The SR44 series features 115 or 230 VAC selectable control voltage, as well as easily and separately adjustable motor start and stop times. The Automatic Application Setup feature fully configures the starter for specific applications with one entry. The advanced energy-saving Optimizing Mode improves motor efficiency and power while delivering the demanded torque at low rpm.
These fully programmable units are equipped with six-button keypads with two-line, 32-character displays; programmable I/O for remote control applications include a single digital input and two relay outputs. An optional Modbus communication card and remote keypad are also available.
Suitable for a variety of motor loads, Stellar SR44 soft starters can be used for motor reversing, with external contactors, and can be connected "in-delta", allowing for use of a smaller soft starter.
To learn more about the full line of Stellar Soft Starters, visit: www.automationdirect.com/soft-starters