Team OTTO scored many "firsts" throughout the 2016 competition season in the FIRST Robotics program. The students from Forsyth Central High School ranging in age from 14 to 18 have taken the team the furthest it's ever been – to the World Competition.
During the short season, January through April, Team OTTO not only designed, built, and competed with their robot, they also accomplished the following:
Team OTTO's Accomplishments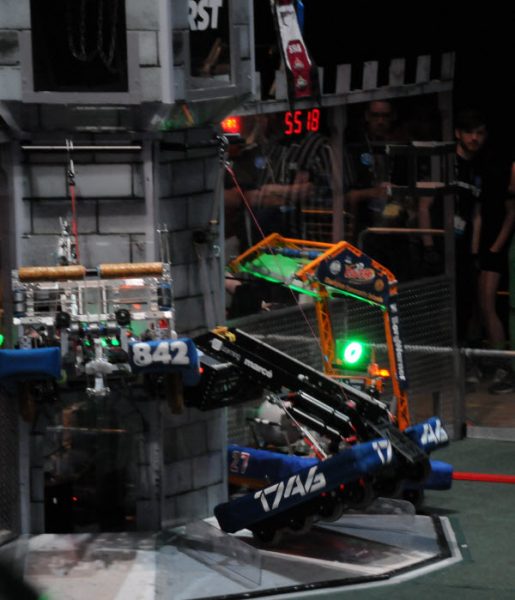 [list style="check" color="blue"]
Placed 24th in the World Competition after elimination by the eventual #1 team.
First appearance in the finals at the World Competition.
First time winning the District Competition in Georgia.
Named one of the top-ranked teams at the World Competition and in the Georgia competition.
First time participating in 5 competitions in one year.
First time receiving 3 Quality Awards which celebrates machine robustness in concept and fabrication.
[/list]
Jeff Spiller, father of team member Sarah, described the team's performance: "Our team had never made it to the finals before so we were all pretty excited. It was a tremendous season for these kids. Even though they were eliminated in the semi-finals by the team that eventually won, they have much to be proud of. Not many high school kids can say their team is ranked 24th in the world!"
Team OTTO is the original Robotics Team sponsored by AutomationDirect which has now grown into more than 100 teams throughout Forsyth County, GA ranging from elementary through high school. Rick Folea, Senior Technical Marketer for AutomationDirect, helped create the first team and is still involved in the program. "This year's team shows us the level of enthusiasm and interest there is in robotics and the technology fields. What started out as a way to draw kids into STEM (Science, Technology, Engineering, Math) has grown into a huge outpouring of support and encouragement from the local level all the way up to this World Competition. We're now seeing the rewards – the kids who participate in these teams are now college graduates with degrees in STEM fields. They're getting technical jobs and helping to fill in that gap in the labor force. In fact, one of the original Team OTTO members now works at AutomationDirect."
As for Team OTTO 2016, the students will now finish out the school year with some seniors graduating and having already committed to attending college to focus on a STEM degree. For the rest of the team, they have additional experience now to bring to next year's competition and are motivated to bring home even more trophies and perhaps achieve another "first" at Worlds 2017.
Congratulations Team OTTO!
To learn more about Georgia FIRST Robotics, go to: www.gafirst.org
To learn more about AutomationDirect.com, go to: about.automationdirect.com