PLC and HMI automation helps even the smallest manufacturers and home-based businesses enhance efficiency and improve quality.
Daniel Oberholtzer, an independent systems integrator consultant, wrote an article for the June 2022 online version of Machine Design titled Automation a Scalable Solution for Smaller Manufacturers. Here's a summary, click on the link above for the full text.
Massive factories and processing plants take advantage of industrial automation technologies, but it is equally true that a lot of manufacturing is performed in small shops, and even garages. Recognizing the need to help bring automation within the economic and technical reach of these smaller operations, Daniel created DO Electrical to execute projects like the one described below.
Calling in the Automation
The client in this case is a relative who annually builds about 20,000 wooden game calls of various shapes and sizes. Before this project, the drilling operation used a hydraulically-powered machine that was manually operated by the user. For deeper holes, the best approach was to automatically extend and retract the drill a few times during the procedure to release the cuttings, but the machine had no provisions to do so.
Step by Step
Based on the I/O count and lack of available space, an AutomationDirect CLICK stackable micro-brick PLC was selected because it would retrofit into the existing control panel nicely. It would also provide plenty of functionality to operate the hydraulic pump, drill motor, and solenoids used for extending/retracting the cylinder and for the workpiece air clamp. Finally, it would accept an input from a linear potentiometer to obtain the head position feedback, instead of only using fixed-position discrete limit switches.
As a significant upgrade as compared to buttons and lights, an AutomationDirect C-more EA3 series touchscreen HMI now provides operational controls and comprehensive indication, along with advanced configuration and diagnostic displays.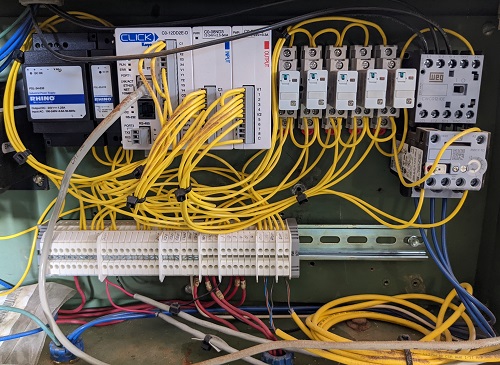 Game Changer
This project has been a game changer for the client, reducing the cost of operation from $0.30 per part to $0.20, while increasing throughput, reducing waste, and improving quality. Payback was less than a year.
As an automation expert with years of experience within industry, this PLC/HMI configuration was straightforward and similar to what I would develop for many types of end-users. The real significance of the modern PLC and HMI hardware and associated programming and runtime software is that it is easy and economical to obtain, configure, deploy and operate.
AutomationDirect provides a wealth of informational materials, how-to videos, and support across a complete portfolio of electrical, instrumentation, and controls products. With AutomationDirect, even the smallest manufacturing operations working out of their garage will find it feasible to automate their workplace by engaging a local systems integrator or performing the work themselves.
All figures courtesy of DO Electrical