Overview of Magnetic Proximity Sensors
Magnetic proximity sensors are used for non-contact position detection beyond the normal limits of inductive sensors. In conjunction with a separate "damping" magnet, magnetic sensors offer very long sensing ranges from a small package size and can detect magnets through walls of non-ferrous metal, stainless steel, aluminum, plastic or wood. Depending on the orientation of the magnetic field the sensor can be damped from the front or from the side. Since magnetic fields penetrate all non-magnetisable materials, these sensors can detect magnets through walls made of non-ferrous metal, stainless steel, aluminum, plastic or wood. In the food industry, the magnetic sensor is often used in connection with a "pig" (cleaning devices which pass through the inside of pipes). These magnetic proximity sensors can detect the exact position of the pig from outside the wall of the stainless steel pipe. Magnetic proxes are also used in 'clean in place' (CIP) systems at "diverter panels" to detect the position of the diverter pipe through the panel faceplates (typically made of stainless steel).
Features:
Detection through plastic, wood, and any non-magnetisable metals
Small housings with very long sensing ranges up to 70 mm
Cylinder and rectangular designs satisfy space-dependent applications
High mechanical stability in case of shock or vibration
Flush or non-flush installation in non-magnetisable metals
Operating Principle
Magnetic sensors use GMR (Giant Magneto-Resistive Effect) technology. The measuring cell consists of resistors with several extremely fine, ferromagnetic and non-magnetic layers. Two of these GMR resistors are used to form a conventional Wheatstone bridge circuit which produces a large signal proportional to the magnetic field when a magnetic field is present. A threshold value is defined and an output signal is switched via a comparator.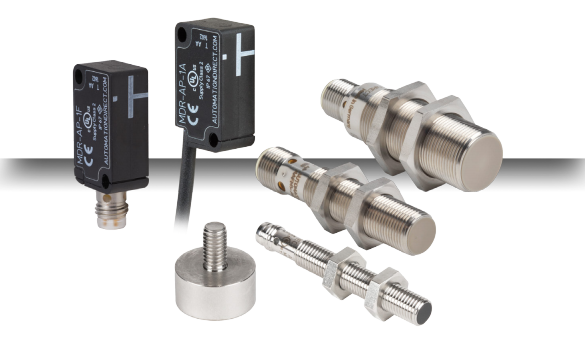 8mm, 12mm and 18mm stainless steel – DC powered
10 models available
8mm, 12mm, or 18mm diameter
316L stainless steel and polybutylene terephthalate housing
Complete overload protection
IP65/IP67 or IP68/IP69K rated
M8 or M12 quick-disconnect, as applicable. Mounting hex nuts included
Lifetime warranty
Rectangular form-factor – DC powered
2 models available
Rectangular units
Polybutylene terephthalate housing
M8 quick-disconnect or 2m cable
Complete overload protection
Lifetime warranty
For more information or to make a purchase, click here.
To read more articles about magnetic proximity sensors or process sensing and control, click here.