AutomationDirect's enclosure offering now includes rugged INTEGRA polycarbonate enclosures. Integra's superior polycarbonate design provides an enclosure that is durable, seals tight and supports easy component installation. We've also added more NEMA-rated enclosures from Hubbell Wiegmann in a wide range of sizes and styles.
Integra Polycarbonate Enclosures
AutomationDirect's enclosure offering now includes Integra polycarbonate enclosures. The Impact series enclosures are lightweight, making them easier to carry and install. The polycarbonate enclosures feature high impact resistance of up to 900 inch-pounds, UV light resistance, and have a wide operating temperature range from minus 40 degrees F to 265 degrees F. All Integra polycarbonate enclosures are NEMA 4X-rated; many models are watertight and saltwater resistant, earning them a NEMA 6P rating and making them marine friendly.
The Impact series wall mount, single-door enclosures, starting at $39.00, feature standard hinges for easy door removal, while permitting a full 225-degree door swing; models are available with clear or opaque lids. Additional features include: integrated mounting flanges molded into the enclosure for easier mounting and an integrated latch to provide a clean look and easy opening; extra interior mounting bosses on the rear wall (and lid of opaque enclosures) provide multiple mounting options for DIN-rail, back panels, or other components.
Back subpanels, dead front panels and swing-out panels in aluminum, PVC, and white powder coated steel finishes are also available, starting at $9.00; offered accessories include: DIN-rail kits, 10-piece screw packs, outdoor labyrinth vent, and pole mounting kits for 2-inch to 12-inch pole diameters.
Integra polycarbonate enclosures are UL approved, CE, RoHs, and REACH compliant. Learn more, here. [hozbreak]
Additional NEMA-Rated Enclosures
The Hubbell Wiegmann line of enclosures has been expanded with additional NEMA 3R and NEMA 12 models. NEMA 3R enclosures, typically used in outdoor applications for wiring and junction boxes, provide protection against falling rain, sleet, snow, and external ice formation; they protect against dripping water when used indoors.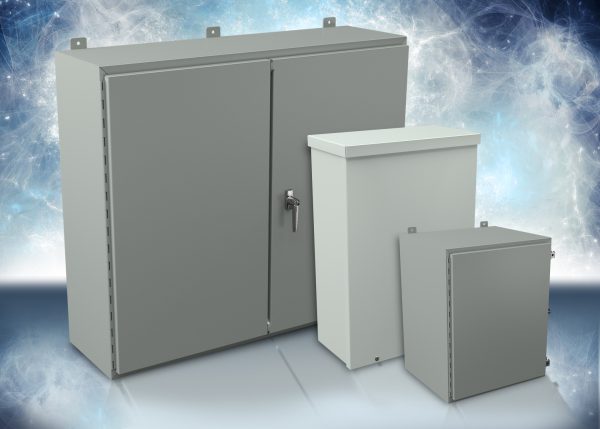 This style of enclosure does not have a gasketed sealing surface; some models have hasps for padlocking. New models include galvanized steel units, and larger sizes with hinge covers.
Most often used for indoor applications of automation control and electronic drives systems, NEMA 12 enclosures are designed to prevent the ingress of dust, water, and oil. Designed with gasketed doors to seal the enclosure's contents from airborne contaminants and non-pressurized water and oil, NEMA 12 enclosures are available in sizes from small wall mounts to two-door floor mount models.
To shop now, click here. [hozbreak]

[hozbreak]