This digital issue of Automation Notebook gives you snapshots of some of our latest products. You'll find products from a variety of categories including, Pneumatics, PLCs, Tools, Sensors, Wire and Wiring Accessories. We've also added to our Process Control, Power, and Motion Control, Enclosures, and Fuse product categories.
Precision Pneumatic Regulators 
NITRA High Precision Pneumatic Regulators feature sensitivity as low as 0.0045 psi and provide dependable regulation accuracy and repeatability.
More Compact Modular Valve Components
NITRA CMV Series Compact Modular Valves, now with intermediate through, blind and exhaust modules, are the ideal solution for applications requiring the unbeatable performance, flexibility and modularity of multiple valves combined with sturdy mechanics and a high degree of protection.
More Productivity PLC Modules
Our Productivity3000 line of programmable controllers now includes an additional lower-cost CPU while the Productivity2000 line has numerous additions including: remote I/O expansion, low resolution analog modules, and an 8-channel thermistor.
Analog I/O Module Technical Information
RUKO Cutting and Grinding Tools
Our RUKO line of tools now includes high-performance black and gold jobber length drill bits, internal and external thread chasers, a hydraulic knockout punch set and a pneumatic grinder that uses high-performance tungsten carbide rotary burrs for higher cutting capacity.
Wera Joker Ratcheting Wrenches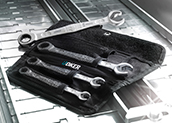 The Joker-series combination ratcheting wrenches are now available in standard (SAE) inch sizes ranging from 5/16″ to 3/4″ and metric sizes ranging from 8mm to 19mm.
Zyklop Ratcheting Tools
Available in SAE and metric sizes, Zyklop metal ratchets and ratchet sets are available in 1/4″, 3/8" and 1/2″ drive sizes; the ratchets feature a fine 72-tooth ratchet mechanism with a low return angle of 5 degrees to allow fast and precise work in small spaces.
ProSense Stainless Steel Pressure Transmitters
SPTD25 series pressure transmitters feature an all-stainless steel thin film sensing element and have a 1/4-inch NPT male threaded process connection, an M12 quick-disconnect electrical connection, and a linear 4-20 mA output with sensing ranges from 100 to 5000 psig.
Miniature 4mm to 8mm Inductive Proximity Sensors
IP67-rated 4mm to 8mm miniature inductive proximity sensors are available in NPN or PNP and normally-open or normally-closed versions. Standard sensing distances are available up to 1.5mm; extended models offer up to 2mm sensing distance.
OPT-Series Fiber Optic Amplifiers
Wenglor® OPT series single and multi-fiber DIN rail-mountable photoelectric amplifiers have NPN or PNP outputs and are IP50/IP65-rated. Also available are one-meter metal-encased glass and two-meter cuttable plastic fiber optic cables.
M18 Photoelectric Laser Sensors with Background Suppression
New FAL Series diffuse axial and right-angle M18 metal laser sensors are the ideal solution for tough industrial automation applications with reduced space requirements. The Class 1 or Class 2 laser source provides a visible red beam for easy alignment, with excellent noise suppression and high immunity to external light.
Mini Size 1 Cables, Connectors, T-couplers and Receptacles
ZIPport® Mini Size 1 cables have an oil-resistant yellow PVC cable jacket and body with a 7/8 inch – 16 UN2 threaded coupling and are available in 2 to 10 meter lengths. Cables and connectors are UL Listed and IP67-rated when connected.
UL Recognized insulated wire ferrules and wire end connectors
Offered in 100-packs, Zoller+Frohlich single and twin-wire insulated ferrules are available in sizes from 20 to 1 AWG, crimp terminals in 20 to 10 AWG wire sizes, and disconnect terminals.
20-Gauge MTW Wire Now Available
Our line of electrical wire for industrial applications now includes 20-gauge MTW wire with heat and moisture-resistant, color-coded or striped, insulating PVC jackets. Available in 500-foot spools, the 20 AWG wire features a smaller diameter which is needed for many types of terminal block connections that cannot accept larger wire.
16AWG Instrumentation Cable Now Available
Now in 16 AWG, as well as 18 AWG, instrumentation cable can be used for instrumentation and control circuits, Class 2 and Class 3 remote-control, signaling, and power-limited circuits, as well as in hazardous locations.
Field Configurable Limit Alarm Modules
Two new field configurable Limit Alarm Modules accept analog input signals and provide relay alarm outputs. The FC-3RLY2 has two SPDT Form C relays, and the FC-3RLY4 provides four SPST Form A relays.
ProSense® Digital Panel Meters in 1/32 DIN and 1/8 DIN Sizes
ProSense digital panel meters feature IP65-rated meter faces, simple menu-driven pushbutton configuration, and accept a wide variety of process inputs. Available output options include alarm relays, analog signal re-transmission, and sensor excitation voltage.
RHINO® Encapsulated DC to DC Converters
New Rhino PSE Series compact, encapsulated DC to DC converters offer 9.5 to 36 VDC and 18 to 75 VDC input voltage ranges, 5.1V, 12V, 24V and 48V DC output voltages, remote on/off control, input polarity protection, and overload protection.
Edison Modular Fuse and Power Distribution Blocks
Modular Class J and Class R fuse blocks simplify design and enhance safety. Optional see-through, IP20 finger-safe covers, with or without blown-fuse indication, have a built-in lockout-tagout feature. Modular Class J power distribution fuse blocks combine fuse block functionality with power distribution capability.
SureMotion® Linear Motion Slides and Actuators
Motor-ready actuator assemblies, sliding components and accessories provide a variety of X-Y-Z positioning system solutions. Twin round-shaft slide actuators, self-contained compact slide actuators, linear slide actuators, and round-shaft sliding elements are available.
More NEMA 4 and 4X Enclosures
Over 200 new NEMA 4 and 4X enclosures and subpanels in a wide variety of sizes have been added to the Hubbell-Wiegmann enclosure lineup.