Have you seen the latest Automation Video Cookbook Chapter?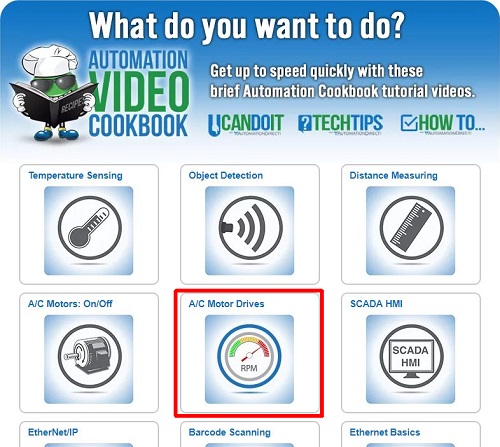 There are over 40 videos showing you step by step how to use all the amazing features of the GS4 Variable Frequency Drive and more being added all the time!
Want a quick start with the bare minimum info you need to get up and running in a few minutes? It's there. Want to know the difference between Volts/Hertz and Sensorless Vector and how and when to use each to maximize performance and minimize cost? It's in there. How about the six things you need to know BEFORE selecting a variable frequency drive? Or even just how or install and use the flange mounting kits or conduit boxes. Everything you need to know in short 2 to 5 minutes hands-on video tutorials and demos.
The A/C Motor Drives chapter of the Automation Video Cookbook is setup just like all the other Cookbook chapters: First there is a "U-CAN-DO-IT" video – a brief high level overview of what a Variable Frequency Drive (VFD) is and what is available. Then there are dozens of TECH TIP videos where we break down all the features and options of the GS4 VFD into videos that are only a few minutes each. Each brief video covers a specific topic in detail usually with a live hands-on demo so you can see exactly what you need to do to take advantage of that feature. The TECH TIP videos are packed with helpful hints and caveats to help you get the most out of the GS4 Drive. It's like having the guy down the hall that knows everything about variable frequency drives at your disposal 24/7. There's no marketing fluff to wade through – just quick and dirty, engineer to engineer, "here's all you need to know to get up and running quickly" advice.
TECH-TIPS includes things like:
How to get the most out of the GS4 Drive's built-in PLC
How to use the optional I/O
How to communicate via Modbus or EtherNet/IP
How to use the optional communications cards
How to do a Factory Reset. How to use Safe Torque Off (STO)
How to use dynamic braking, etc
It's all in the Automation Video Cookbook Chapter on A/C Motor Drives.
The final section of the video cookbook chapter is the "HOW-TO" video section where we show you step-by-step how to use the GS4 Variable Frequency Drive with all of AutomationDirect's PLCs. That includes how to communicate with and control the drive from a CLICK PLC, Do-more PLC and Productivity Series PLCs.
Of course, you can always simply go to the AutomationDirect video search page and just type what it is you want to know. That's another easy way to quickly find a video tutorial on exactly what you need!
AutomationDirect adds new videos to the Automation Video Cookbook all the time so bookmark it and check back often. Or better yet, subscribe to the AutomationDirect YouTube Channel so you will be notified when new videos are posted!
To read about more topics like this, click here.