InstaKey Security System, a lock management company in Denver, Colorado, supplies lock cylinders that can be re-keyed up to twelve times using only a step-change key. The step-change key is a specially designed device which removes a single metal wafer from a glued stack inside the chamber of a lock cylinder. Because of the growing demand for their patented security system, InstaKey saw a need to replace their existing lock pin laminating machine, because it had become unreliable and difficult to repair.
InstaKey engineers completed the mechanical design for a new lock pin laminating machine and requested that Sustainable Automation, Inc., a provider of custom industrial automation solutions, create a low-cost control system for it. The control system would require gluing the wafers in stacks of two to six to create lock pins, thus maximizing machine throughput. The machine would also need to shut off automatically when the requested number of stacks were completed, and would detect and annunciate faults. The customer requested an operator interface to enable the user to enter the size of the stacks and the number of stacks to be made.
AutomationDirect Parts to the Rescue
Sustainable Automation used an AutomationDirect DL06 PLC, a cost-effective controller for an application requiring only discrete I/O. The DL06 is programmed using DirectSOFT, a versatile language that allows the code to be easily changed as the machine evolves. A programmable C-more® Micro touchscreen operator interface mounted on the door of the control cabinet provides easy data entry, screen navigation, and alarm annunciation.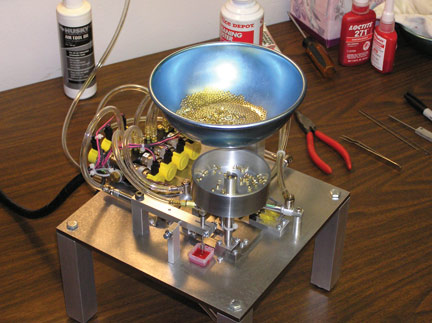 Sustainable Automation optimized the performance of the lock pin laminating machine by analyzing process flow and organizing tasks into groups that could execute in parallel. All actuator response delays are user-definable via the touchscreen, allowing the operator to tune the controls according to the actuator performance. A NEMA 4/12 cabinet protects the electrical components from the plant environment.
Sustainable Automation delivered the completed control cabinet ahead of schedule. InstaKey installed and commissioned the new control system themselves without any outside support. Les McMillin, VP of Engineering, commented to the engineers at Sustainable Automation, "I am pleased with the professional job you did," describing the layout and wiring of the control panel as "a work of art."
Sustainable Automation has broad experience designing and implementing custom PLC and PC based control systems for machine and process control in a variety of industries. Manufacturers with industrial automation needs may contact them atsales@SustainableAutomation.com or 303-996-0647.
View products from AutomationDirect that relate to this article:
DL06 PLCs ׀ C-more Micro Panels ׀ NEMA Enclosures ׀ Pushbuttons
By Steve Drouilhet,
Sustainable Automation
Originally Published: June 1, 2008