Robots Activate! Is a familiar phrase to those fans who follow the BattleBots competition which just completed its 2016 season broadcast on ABC Television in the United States. One of the BattleBots competition veterans, Donald Hutson, has been involved since the show began and has been on the robot combat circuit since 1986.
Meet Lock-Jaw
This year, Hutson's robot Lock-Jaw made it to the Top 32 bracket of BattleBots. Lock-Jaw was an enhanced version of the original Lock-Jaw heavyweight robot which premiered during BattleBot's Season 1. The new Lock-Jaw (Season 2) robot was designed by Hutson and includes in its primary weapon an innovative new spring powered flipper that utilizes the AutomationDirect 25:1 inline servo gearbox (PGA090-25A3) to crank down the 5 massive torsion springs.
Hutson explained the modifications: "We changed Season 1 Lock-Jaw to a 4-wheel drive configuration in place of the 6-wheel drive and made way more modular. Lock-Jaw (Season 2) is a completely new robot with a new spring-powered flipper that is powered by one of the PG-25 gearboxes. It's definitely a major investment to compete in BattleBots," said Hutson. "It mainly takes lots of time and a bit of money, but to be truly competitive you have to have a fast, effective and very robust robot."
The Mutant Robot team and the newly designed Lock-Jaw2 arrived at the BattleBots set ready for action. Unlike the glamour of Hollywood, however, the team spent eight days and some long nights for the filming in Los Angeles, CA.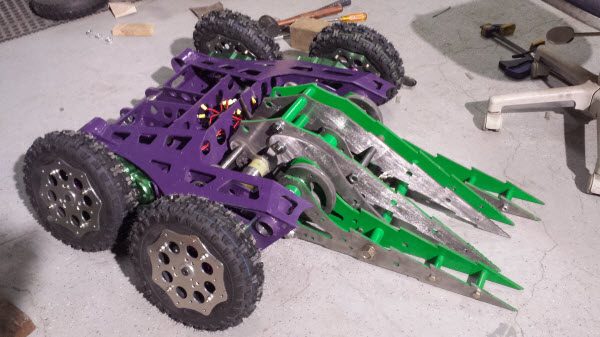 This season of BattleBots featured new robot designs with many adding new technologies. "Some of the trends we're seeing are drones," said Hutson. "For the past two seasons, drones have been a part of the competition and have done OK but have yet to show a major value. It's exciting to see these new technologies incorporated into the robots and will eventually make it challenging to defend against them."
Season 2 of BattleBots aired from July to September on ABC Television and is now available to watch on Hulu. The robots fight it out for 10 weeks with the champion winning the Giant Nut trophy. Forty-eight robots entered the initial round. After qualifying, Lock-Jaw2 made it through to the first-round action as a wild card entry. The robot lost in a close match during the first round by a split judges' decision.
Hutson and his team were pleased to be part of the show again and enjoy being a part of the global effort to spread the word about the fun and challenge of BattleBot competition. Hutson explained: "Overall, the goal for BattleBots on TV is to have an exciting match and have your robot do what it was designed to do. We had some tough opponents this year that we weren't quite ready for. But we're already designing for Season 3 and look forward to creating a more competitive robot that can handle a new field of competitors."
See Lock-Jaw in action by watching this video!
To learn more about BattleBots competition on ABC, click here.