Want some examples of what people are doing with pneumatics? You're in luck, we have a full collection of Application Stories here. For your convenience we took the time to list some of our favorites. You can see a preview below and then pick the ones that look the most interesting to you. Just remember that there is a lot more where these came from. 
Application Stories
When selecting the right shampoo, what factors do you consider? Scent, ingredients, cost? How about packaging? That's right, packaging. For the follicly-challenged, like myself, packaging may be a real decision maker. After all, luster, sheen and volumizing abilities are kinda lost on me. For most, packaging is an afterthought, if it is a thought at all. But packaging can be the most complicated aspect of the manufacturing process. One that can require specialized machines customized to a particular product design. And that's exactly where Riada Equipment stands out. Read more here.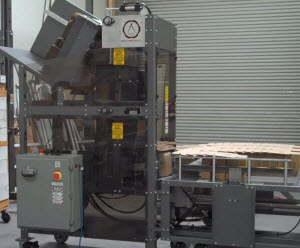 Ridgeline Machine made extensive use of pneumatics when building a low-cost, small-footprint, portable traymaker to replace a manual process for one of their customers. Ridgeline Machine Design, LLC (RMD), founded in 2012, is primarily a packaging machinery producer, and the company's owners have over 40 years experience designing and building custom machinery. RMD builds packaging machinery for a variety of applications for product placement into AFM, FOL, HSC, RSC cases or trays, and they have also branched out into robotics and machinery for consumer cooler production. Read more here.
Many years ago my father was working on a new shop behind his house. The insides were left for us to finish. We needed to build work benches, shelves and racks. To save money, he bought the longer 2×4 sized lumber and we'd cut it to whatever size was needed. This worked out great but the extra-long boards were unruly and a challenge to cut by one person because of the length. We didn't have a nice chop saw setup that is so common now with the nice outriggers and side supports. We basically hade a saw with an old Black and Decker work bench. The kind with the clamp built into the table top. Read more here.
When you think of Halloween you probably have in mind something creepy, scary, or horrifyingly haunting to use as your Halloween props. But how do you give it that something special, that "scream factor"? That's where AutomationDirect comes in…Check out our video series on automating Halloween props. This series has been quite a hit with viewers and we've kicked things up a notch or two with a classic horror movie-style piece. Hopefully our recent DIY Halloween Prop video will scare…I mean…inspire you. Read more here.